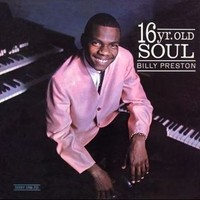 Billy Preston traveled a long winding, extremely successful, musical road from Gospel through rock, full of personal and health related bumps.   He was THE phenom B3/piano player in demand from the 60's to present time.   His session work encompassed dozens of music legends. In addition to a great solo career (and sporting the biggest Afro known to man), he held a major distinction.   He was a contributing collaborator with The Beatles and often referred to as the Fifth Beatle.   He was even given credit on the label of Get Back, and appeared as Sgt. Pepper in the movie.   He wrote Joe Cocker's biggest hit, You Are So Beautiful.   He also toured with a few acts you may have heard of, Little Richard (where he originally met The Beatles), The Rolling Stones, George Harrison, Ringo, and Eric Clapton.   He was also revered enough to be allowed to be the show stealer, as he did at The Concert For Bangladesh, Crossroads I, The Concert For George, and the John Lennon tribute at the Rock Hall.   Ringo paid him the ultimate musicians compliment, which would later serve as a fitting epitaph.   "Billy Preston is the only player I know who never hit a wrong note!"   I was fortunate to be able to spend some quality time talking with him before his untimely passing.  
This release from ABKCO Records marks the first time it has seen daylight from the vaults in 45 years.   The teenage Billy was brought to the studio by Sam Cooke and his partner J.W. Alexander to record on their SAR label in 1963.   It features 10 tracks, and two bonus tracks.  
This release features some standards including I Can't Stop Loving You, and the Sam Cooke hits Bring It On Home To Me, and Win Your Love For Me.   The Billie Holiday/Blood, Sweat, and Tears song God Bless The Child is also covered.   An interesting note, at this early opportunity, Billy was also able to include a song he co-wrote Good News.  
The instrumental album is quite similar to (and may have inspired) the 1966 release of the instrumental album, James Brown At The Organ, Handful of Soul. Released in conjunction with Black History Month, this album is a fitting tribute, and shows the early, incredible talent of Billy P.   RIP Billy!  
By RME
[Rating: 3/5]