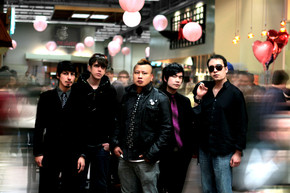 Portland, Oregon-based Asian American dance-rock band The Slants' trademark application for their name, "The Slants" has been rejected by the United States Patent and Trademark Office on the grounds that the term is deemed to be disparaging to persons of Asian descent and not sufficiently embraced by the Asian Pacific Islander (API) community. The dispute began last year and now the band is preparing for an appeal of the decision.
The decision was reached by the Trademark Office despite evidence filed by the band's attorney, which included numerous articles by the Asian American media supporting The Slants, the band's involvement with dozens of API cultural festivals and non-profit organizations, and legal declarations from several well-respected leaders of the API community.
"How The Wicked Live":
[youtube nT6_JKtiSUY nolink]
The band is currently working with their attorney on preparing an appeal and seeking help from individuals or organizations who would like to assist. Interested parties should contact Simon Tam at theslants@theslants.com.