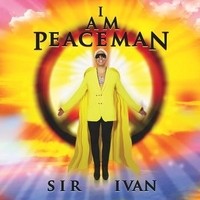 For an accomplished banker, leaving an established & respected full-time gig to pursue a career in music seems like a no brainier. The transition no doubt would of course be a seamless one given the Financial independence where things like Promotion, Music Videos, Impressive Session players, & of course a Grand Ole' Production would no doubt render musical success. To sweeten the deal fill the CD with classic cover songs. Pretty much a no brainier right?
As the story goes – it all started when back in 2000 when John Lennon's Imagine inspired Sir Ivan to peruse a career in music Sir Ivan releases his latest release entitled "I am Peaceman" in 2010. I feel obligated to mention Sir Ivan's current chart positions are as follows — "Hare Krishna" #31 on Billboard's Dance Club Play Chart & #30 DJ Times Magazine Club Play Chart. Listening to the CD one can't help but marvel at the amazing selection of classic songs from the likes of The Turtles, The Beetles, Buffalo Springfield, Bob Dylan the list goes on & on. Listening to this rather inviting spread of classic songs sung to us by Sir Ivan should no doubt render an amazing CD review — Another no brainier right?
Think of Sir Ivan as a cross between "Austin Powers, Elvis & Evil Knievel" serving up music that is both modern & dance-driven. Seriously? The whole Sir Ivan thing works best when you don't take him too seriously. I mean he's a middle aged dude sporting a cape that looks like a Vegas Lounge singer. Seriously? Actually this approach is quite brilliant because when one listens to impressive singles Kumbya & Hare Krishna from this standpoint — Sir Ivan pulls it off perfectly. Sir Ivan may be quirky & zany-type entertainer   – but his music is quite amazing, appealing, marketable & will win you over with messages of World Peace & Hippie love for all to enjoy. This latest CD showcases some amazing songs via this once banker turned entertainer who just wants to do one thing — try to make the world a better place with his music. It's a no brainier.  
By: Kendall Cross
[Rating: 3/5]