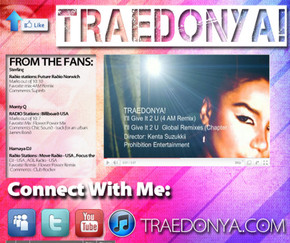 Prohibition Ent and TRAEDONYA! are really excited to announce the launch of a brand new Facebook App. The App is FREE and it is all you need to keep up with TRAEDONYA! on Twitter, Facebook, Myspace, Youtube, and much more!
Facebook APP: http://www.facebook.com/pages/TRAEDONYA/55539812571
The app features comments by industry djs about her current remix ep "I'LL GIVE IT 2 U" which has been creating a buzz since the fall of 2010. The remix ep made industry mag Dj Times top 40 urban club chart at 21 and was the number 9 radio add at media base stations in USA with the hottest records. Also featured on the app will be the first video for "I'LL GIVE IT 2 U". Also with the app is a brand new video featuring her soulful remix tastefully done by remixer 4AM.  
[youtube dzsbRb2ItvY nolink]
"This has been a long time coming. It took longer for this to manifest and get done but I am excited because it will allow me to go into 2011 with something fresh. Also check out my brand new http://traedonya.com site. As part of the new launch fans can go get a free download on my new site. I am very excited about all the things", says TRAEDONYA!