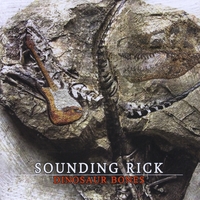 Over the years we've seen music slowly erode into something quite disturbing. Morph back to a happier time when you will find a more carefree musical expression — embodiment of a carefree society. Music these day, though very technically savvy is missing something. What you get is artists that act in a very overcompensating way trying to prove how sick & shocking they are. At the end of they day it's really just a publicity stunt meant to get your attention for more than 1 minute. Talking to many music fans out there, the response is overwhelming. Give me something that doesn't try to be over the top, something that is fun, entertaining & just a blast to listen to.
So across my desk slides the latest CD by Sounding Rick entitled Dinosaur Bones. Venture to his URL you will discover this is one of those guys that's been writing great music for a while now down in the Tampa Bay area. Sounding Rick is headed up by guitarist/singer/songwriter Rick Reynolds. What I heard put a smile on my face, finally a band that gets it. Sounding Rick is some of the best new music I've heard in quite some time & delivers many of the aforementioned items I spoke about. You want good playing; you want rock, funk & R&B that is packed to the hilt with a feel good vibe? Well look no further. This CD covers all the bases delivering solid playing & amazing songwriting & a musical flair that takes us back to a more carefree time.
Dinosaur Bones by Rick Reynolds & company is a breath of fresh air & it's what we've all been waiting for. It's a polished sounding musical production from start to finish & possesses a lot of diversity — funk, R&B, Jazz, Rock & even pop. It's got good playing, solid writing, & a feel good vibe that will lift your spirits without ever trying to hard. It's definitely a musical production that gives us a glimpse of what music was meant to do — make us happy not sad & depressed. Digging up Dinosaur Bones can be a refreshing blast from the past.
 By: Drew Blackwell – INDIE MUSIC MEDIA STAFF
[Rating: 4.5/5]