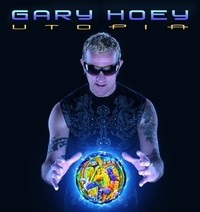 Gary earned his industry guitar credits becoming the leading voice of surf music, even collaborating with surf guru/mentor Dick Dale.   He then went on to gain recognition with a string of phenomenal instrumental Christmas albums, which he incorporated into a great "Ho, Ho, Hoey" Christmas tour.   Gary's playing can be better described as metal than anything else.   Over the recent years, Gary has added the vocal dimension to his repertoire, and has been touring as a three-piece group, with Erik Kondziolka is on drums and vocals, and Matt Scurfield on bass.  
The interesting part of Gary's current releases is that you get classic rock/pop songs, accompanied by searing and technical guitar work in the class of Vai, Satch, or Eric Johnson.   The title track Utopia, along with Big Cactus, and Bonzai Island are instrumentals, the latter going back to his surf roots.   Barnburner has that Motorhead feel, while Sleepwalk is heavy on riffs.   If I Knew Then is the slower ballad style offering.   Some of the lyrics are relationship based, while others deal with that reoccurring subject, life.  
This is a good sounding release, and again, some clever guitar work.   If you are into great guitar players, you need to catch Gary live.   Although the Christmas tour doesn't hit every major venue, keep your eyes open.   They split the show between the Christmas segment, and everything else.  
By RME
[Rating: 3/5]