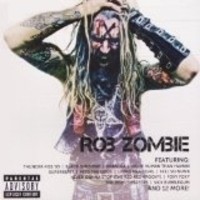 Rob Zombie has become the poster boy for "Shock Till You Drop" cinematic and musical mayhem.   This release is touted as "The First Ever 2CD Collection Of Rob Zombie's Metal Mayhem".   Who can argue with that?   A devout follower of Alice Cooper, Rob teamed up with the master for this year's double-whammy Halloween Hootenanny tour.  
White Zombie took the scene in the 80's categorized as a "Fantasy" band, with Rob going solo in 1998.   The group and Rob solo, gathered a mob of followers mainly due to their high energy and extremely visual stage performances.  
Included in this release are Dragula, Thunder Kiss 65, More Human Than Human, Feel So Numb, Foxy, Foxy, Sick Bubblegum, Black Sunshine, Superbeast, Feed The Gods, The One, Super-Charger Heaven, The Great American Nightmare, and other assorted madness.
Yes, it is that time for heavy metal gift giving again.   If you're a Rob fan, this is a must.   If you have to fill some metal stockings, your problems have been answered.   Oh yeah, don't forget your parents and grandparents.   I'm sure they don't already have any Zombie in their MP3 players.   Do your part in helping them in getting their tunes up to date!  
By RME
[Rating: 3/5]