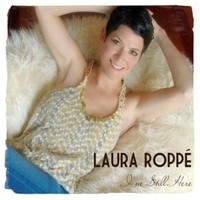 Laura is an artist who is not holding back and letting it all hang out (not literally of course–lol) on her new release.   What I mean is that Roppe is offering up an invigorating style & presence that will be hard to ignore.   With infectious rhythms, wonderful harmony and an overall sound that is incredibly catchy, you will attract to 'I'm Still Here' right away.  
This is actually Laura Roppe's second album, in which her first record was titled 'Girl Like This'.   I don't know anything about her last album, but I can tell you that 'I'm Still Here' is an instant classic!   Laura actually wrote all 13 songs during and immediately after her radiation & chemotherapy treatments.   She had to go one on one with an ugly opponent known as breast cancer back in 2009, but she fought and won.   The end result is a high quality, well-put-together record where Laura Roppe is yelling out to the world 'I'm Still Here'!  
This San Diego-based singer/songwriter is full of energy & spirit and you witness it all on this new recording.   What I loved most here was that there were so many styles being incorporated from rock & soul to country & blues to folk & pop.   I even heard a little bit of funk on the opening track "Bail Yourself Out" that just sounded so good.   The other impressive part here is that Laura had songs that were more intimate & acoustic-oriented to numbers that had the all-out band effect.   Speaking of her band, there were a ton of talented musicians that contributed to this project such as her own cousin Matthew Embree who produced all the songs and added electric & acoustic guitar, ukulele, keys, bass, percussion and background vocals.   There was a little bit of everything going on here and that's what I loved most about 'I'm Still Here'.
Laura proves that she has incredible soul here where you can really feel it coming through on numerous tracks.   She can rock it out, give you some blues, slow it down to give you a nice singer/songwriter standard or even go country on you.   This is what makes her the quintessential Americana music artist.   Whatever she is feeding you, you will be eating it up or at least I was.   Laura Roppe is one confident artist with loads of talent & a great voice plus she brings you her own unique style that can't be beat.   If you're not a fan of this singer/songwriter after hearing 'I'm Still Here', then I would have to say something is wrong with that picture.   The feel-good & fun-spirited Laura Roppe marches on!
By Jimmy Rae (jrae@skopemag.com)
[Rating: 4.5/5]