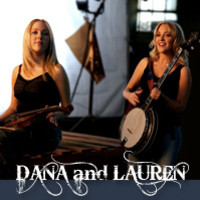 You may have heard of these ladies already possibly under The Shankman Twins or Malibu Storm.   The single "Photograph" by Def Leppard off of Malibu Storm's debut album actually reached #2 on the Billboard country single sales chart and the music video hit the Top 20 Countdown on CMT and GAC.   These identical twins, yes I said identical twins, are now going under just Dana and Lauren and they have a brand new EP to go along with this new change.  
Right away when you hear these two sisters sing, you hear nothing but pleasant vibes.   Dana and Lauren compliment eachother extremely well not just as one-in-the-same siblings but also as a musical duo.   Vocally & musically, this tag team is distinctly on the same page with one another to the point where it's scary.   Their chemistry, as recording artists, is off the charts and you will pick up on this immediately.
On the new EP, Dana & Lauren cover all vocals plus Dana plays banjo and her sis Lauren plays the fiddle.   Other musicians include: Jason Moreau on bass, Chase Duddy on drums and Ethan Kaufman on guitar.   The four-track set is produced by Ethan Allen and is actually a teaser for a full-length album coming soon.   The four songs provide elements of country, bluegrass and acoustic pop/rock.   The collection is wonderful to hear honestly and I'm not even a real country music fan!
The disc starts off with the single "Chasing Trains" where you will tell right away that Dana & Lauren have the perfect voices for this style of music.   Their voices are completely in sync and their harmonies are right on.   I'm very impressed with Dana & Lauren's overall singing performance as they prove to be an ideal team.   Besides having it down from a vocal standpoint, the two twins also nailed it with stellar banjo & fiddle playing.   The next track "California Love" will just knock your socks off because it is actually a cover of 2Pac & Dr. Dre's hip-hop classic.   I couldn't believe it myself when I read this because I'm a huge fan of "California Love" as I feel it is one of the best hip-hop songs & videos of all time.   I didn't think it was possible that this classic joint could be transformed into a country/bluegrass number; no way in hell!   Well…I eat my words because Dana & Lauren worked it out brilliantly and made it fit perfectly!   I kid you not on this track; these two artists turned "California Love" into something new & fresh and you can tell they had a blast doing it.   It doesn't beat the original, usually never happens anyway, but I really love what Dana & Lauren did with this song.   I'll be listening again myself for sure because it just blew me away to hear a version done so well in a completely different genre of music.   The EP rolls along with more excellent musicianship and singing that will eat your heart out.
I'm very excited to hear the full-length album now!   I believe Dana & Lauren have something extremely special here and I'm so glad I had the opportunity to review this EP.   One last thought—one of my favorite hip-hop/rap groups of all time are The Beastie Boys, so Dana & Lauren, what do you say can I get a cover of an old-school, Beastie Boys joint???   Or what about "Humpty Dance" by Digital Underground or "Baby Got Back" by Sir Mix-A-Lot; that would be crazy!   I would love to hear a new and original transformation, so keep me posted! LoL
By Jimmy Rae (jrae@skopemag.com)
[Rating: 4.5/5]