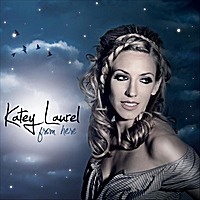 Katey Laurel is a singer/songwriter from Denver who hopes to impress you with her new EP From Here.   This latest release is a follow-up to her debut solo record titled Upstairs, Downstairs.   Katey proved it then and she proved it once again on this eight-track set that she is one committed artist.   Katey Laurel stands true to herself as a musician and as a person, which is why so many people on all levels will connect with her.  
Every single song on From Here has got heart, which proves that Laurel is as genuine as they come.   You sense deep feeling coming from this young lady just by the way she sings each word.   You can tell that Katey Laurel puts everything into her performance, which is why I feel people will fall in love with her right away.
Her musical style consists of a mix between folk & pop that is very earthy and very real.   The disc starts up with a song called "Begin Again" that offers up a mysterious yet somber feel.   Then on the title track, Katey gives you an atmosphere that is so incredibly calm.   I believe that Laurel's play on human emotions is performed perfectly and honestly is second to none.  
The one aspect about this EP and Katey Laurel that impressed me the most was how well she sang.   Katey has such a great voice that will be noticed as soon as you push play.   From beginning to end, Laurel's vocals are impeccable as she never misses a beat.   Her pitch & tone is just spot on and this is an absolute joy to hear.   Not to mention, Katey Laurel is one heck of a lyricist coming up with meaningful lines to each of her songs.  
Obviously this singer/songwriter from Colorado has got talent and one amazing voice.   You will have to hear it for yourself just so you know what I'm talking about.   My only suggestion is that I would have liked some more lively numbers on this EP.   I think by mixing some rock in to the pop & folk would have made for a very fun sound overall.   Also, maybe by going away from Pop completely and focusing specifically on the folk side of Laurel could have been another way to go.   Just give Katey Laurel an acoustic guitar and a microphone and watch as she sings & plays her heart out!   I also feel that Katey could easily crossover into Country music just from what I experienced on From Here.   I sense that there is a lot more that we haven't yet seen or heard from Katey Laurel, so I can't wait to hear what's next!
By Jimmy Rae (jrae@skopemag.com)
[Rating: 3.5/5]