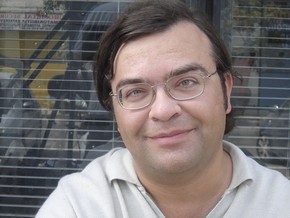 From Thessaloniki, Greece comes Andreas, a multi talented composer of instrumental music who uses synthesizers and accoustic instruments. He is a huge fan of Yanni and has created a website dedicated to him. Andreas unique style is a reflection of the depth and intellect of this worldly man.
Diana: How do you classify your music?
My music is contemporary instrumental. There is a variety of styles in it: you can find songs that belong in the dance, epic classical, pop ballad, new age, uptempo pop and solo piano genres.  
 
Diana: What does your music say about you and what do you want listeners to get from it?
 
My music comes from my own life experiences and the things I love: being in love, the beauty of nature, the struggle for victory, the pain of a major loss. At the same time-and this is true for a lot of composers, lyricists and authors-there are songs inspired from other people's experiences or even from films. Not surprisingly since I am a major movie fan with a large DVD collection!
 
I want my listeners to use these songs as the soundtrack of their life. I want them to remember certain events and images of their life when they listen to my songs.
 
Since there are no lyrics to dictate them a specific story they can imagine their own story based on their feelings, images and experiences. The title and the style of the song is obviously a suggestion but they can use it however they like. One thing is for certain: I feel that in any of my CDs you can find a variety that satisfies you emotionally in a deep level.
 
Diana: Tell me about your cd's and any current or future projects.
 
My debut CD "Melodic Winds" was released on 1998, but I re-released it on 2010 with the tite "Melodic Winds (Revisited)". The new release features greatly improved sounds and orchestrations: it is a heavily updated and totally contemporary album now, even though it uses the same melodies and basic arrangement ideas as the original release. But it was time to use my new equipment and the experience I gained all these years.
 
My second CD "Life Images" was released on 2001 and I am currently working on the "Revisited" release, just like I did for "Melodic Winds". This one is hopefully coming out on December 2011.
 
"When The Sea Remembers" was the my 3rd release on 2004 and "Summer Dreams" my 4th release on 2008. A Christmas album followed on December 2008 called "Melodic Christmas".
 
One of the dreams I have is to write music for picture and I am going to pursue this dream during 2011.
 
Diana: You have a masters degree in Environmental Physics (specializing in Atmosphere Pollution and Ozone depletion).   I am interested in your opinion on where we stand with global warming.
 
I kind of agree with my professor Christos Zerefos (renokwoned for his work on ozone depletion) and Al Gore and the message he sends in the "Inconvenient Truth" DVD. The situation is already alarming and if we don't take drastic measures in the next 10-20 years we will pass a certain point (if we have not passed it already!) that it will be impossible to stop the rise of global temperature.
[youtube 23z54yTVE80 nolink]
When I am talking about drastic measures I do not mean saving energy by using environmental friendly lamps or not leaving our electronic devices on standby. Sure, everything helps and we can win some time by doing such things, but it is definitely not enough! I am talking about changing our life style: that means transform the global economy by reducing the usage of carbon fuels as much as 100%, use ONLY electric cars, produce electricity using solar and wind power AND-perhaps the most crucial-consume much less! This is really hard to even think of, but it is the awful truth.
 
Diana: I would also like to hear more about your teaching music theory to children.
 
Music theory class includes solfege lessons, which means that I play the exercises on the piano and the children sing. Sure, children get sometimes restless waiting for their turn to sing and sometimes they think that music theory is not very important and learning to play an instrument is enough. So everything is not great, but still, really enjoy it! Children are delightful to teach.
 
I also have an adult class which is different as the students are around my age. We are more like friends now in our second year together and we have a good atmosphere.
 
Diana: What would you like to be doing 5 years from now?
 
I do have the dream of becoming very famous, because I honestly think that my music has what it takes. But I realize this is very difficult. I would be very happy if I become even a bit famous and easily make my living with my own music.  
 
www.andreasonline.com    
www.cdbaby.com/andreas
www.yannionline.com
By: Diana Olson – diolson05@yahoo.com