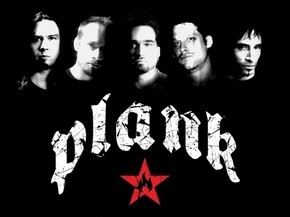 With raw, powerful songs you can really hold on to, PLANK creates a heavy downbeat musical world with catchy hooks and melody. A band that would rather start the trend than follow it, these five guys found their way to each other to create a buzz sound, pure and gimmick free. Now the objective is to get the music and the name to as many people as possible.
PLANK "So Wicked" MP3:
"Bring it, and leave everything you've got on the stage." PLANK has truly lived up to their motto on every stage they have played. Boston-based with a blue-collar edge, heavy yet precise volume and anthem-like choruses, their style is molded from the very roots of 1970's hard rock combined with a modern, heavy edge and sound that is rapidly exploding across the nation. PLANK is currently working with legendary super rock producer Beau Hill for their upcoming cd release. The first single "STANDING AT THE EDGE" exploded onto mainstream rock radio across the nation, being added to several Clear Channel stations as well as other commercial, internet, independent and college stations nationwide, followed by "So Wicked" and "Wasted", which have also gained international radio airplay.