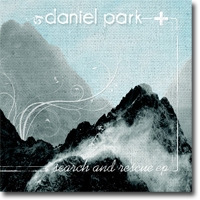 Mr. Park does it again!   Coming off his last release These Illusions, Daniel Park proves that he did not lose a beat.   On the new EP Search and Rescue, Park continues to impress listeners everywhere with a sound and voice that makes you listen.
There are a number of talented musicians on this project who back up Daniel in stellar fashion.   Park is a phenomenal singer/songwriter in his own right, but he was hoping to capture more of a live band feel on Search and Rescue.   There are even some returning members from These Illusions such as: Nikki Singleton singing back up on "Be Right Here" along with Matthew Dynek on drums, bongos and piano on "Love In Your Hands" & Brett Beckett on electric guitar.   Other guests include: Mark Klett on piano, organ & guitar solo on "RollerCoaster" and backup vocals on "Sparks Fly", Ivan Michel on drums on "Last Stop" and bassists Chris Churchill & Syavosh Amini.   The group energy is there as you hear a great sound overall with Daniel Park & company making it happen musically.
As good as this EP turned out, it started off kind of shaky for me with "Be Right Here".   Reason being is because I picked up on that synthesized voice effect that seems to be on everyone's record today.   I speak of a sound that has been overemphasized to the point of where it's just ridiculous now.   Mainstream music and Pop in general is guilty of incorporating this annoying effect left and right.   Daniel Park and Nikki Singleton still did a hell of a job on "Be Right Here", but please sway away from the synthesized voice effect because it's so redundant in today's music.   I already know Daniel Park is better than that because I heard it first hand on These Illusions and now on Search and Rescue.   So…just stick to what you do best Daniel and you'll be just fine.   So now that I got that off my chest, let's move on.   The first track "Be Right Here" had a light pop/rock feel to go along with a groovin' beat.   From there, Park more than redeemed himself with some substance-heavy, quality-driven songs.   The title track offers an electric & acoustic version and both are done extremely well.   Both versions are catchy as hell and offer some fine musical moments.  
I'm partial to Daniel Park's acoustic side because I think this is his true niche.   Give this man a guitar & a mic and watch this singer/songwriter work his magic.   I am a huge fan of Daniel Park now and it has a lot to do with his acoustic sound.   Search and Rescue offers incredible musicianship, powerful vocals & lyrics and an artist who I think has figured out his place in life.   With seven songs that scream radio play and pop appeal, Daniel Park is well on his way and here to stay!  
By Jimmy Rae (jrae@skopemag.com)
[Rating: 4.5/5]