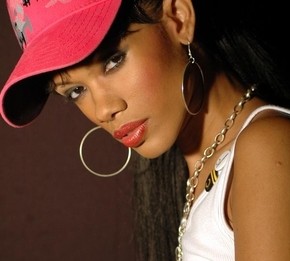 I will tell you one thing, its a winter wonderland where I am. All you can see is snow. I am not complaining but its is cold out here! So that being said, I had to have an artist that would bring the heat. It is my pleasure to introduce coming from Barbados is the beautiful & talented, Ayana John. I got into Ayana's music after seeing her video for her contagious single "Can't Keep Up." I swear this song just grabs you and takes over your soul. Her album 'Royal Blue' is out now and it really shows how Ayana John is a force from pop to R&B. Join us this weekend as Ayana John gets loose and lets Skope know what her next moves are!
Skope: Where are we speaking from tonight?
 
Ayana: I'm here in Barbados in the Caribbean. I have been busy scheduling new gigs for the season and promoting my album.
Skope: You are riding high off the hot single, "Can't Keep Up." What inspired you to write that song and how are you feeling from the response?
 
Ayana: The song tells the story of a relationship on the verge of break-up due to each partner operating on different levels. Some of it is based on observation of friends who have been in that sort of situation and some on personal experience. I have been overwhelmed by positive response to the single because the single is honest and speaks candidly about relationship turmoil.
Stoli: The video is high energy and sexy. How much input did you give to the direction and how does the video define the song?
 
Ayana: I brought my own concept to the table where the video was concerned and the team who worked on the video used elements of my idea when constructing the final product. The video adds elements of a love triangle to the song and the discovery that the other person in the relationship may very well not be on the same page as I am, the despair and anger of finding out about it and reconciling oneself to the fact that if it isn't working just move on.  
Stoli: You are very attractive & in great shape. How do you keep your self healthy and looking great?
 
Ayana: I have only eaten fish as my staple protein from the time i was 12 years old. I drink lots of water and i stay away from dairy as much as possible, though at times i incorporate it a tiny bit of cheese in some of my meals for added flavor. I am pretty disciplined where diet is concerned.
Stoli: Your vocals are amazing but you can dance too. What came first, your singing or dancing?
 
Ayana: I was an avid dancer. I am trained in Indian Dance – Khatak at the age of 11 years and I have received lessons in Jazz/Hip-Hop as part of my training. I only discovered a love for singing in my latter teen years.
"Can't Keep Up"
[youtube LuGoJJmri4w nolink]
Stoli: You are from Barbados. How did music come into your life thru family & everyday life growing up there?
 
Ayana: I developed a rich appreciation for music through family influence. My family loves of Rock 'n Roll and Pop Music, whereby I developed a love R'nB/Soul and Jazz, on my own. Music has no limit and I tend to fuse genres when I approach musical creation as a tribute to all the artistes across the many genres who have contributed to my taking the step to be a full-time musician/vocalist and recording artiste.
Stoli: You must have no shortage for men trying to get with you and take you out. What kind of guy do you go for and what is your ideal first date?
 
Ayana: I really regard sensitivity in a male as a desirable quality. A man who is in tune with his emotions is definitely a plus where I am concerned. I am a person who is governed by emotion a seek spiritual connection in a partner.   My ideal first date would be to go out to a movie. Preferably, a comedy as i enjoy light-hearted flicks.
Stoli: Your new mini-album 'Royal Blue' is full of hits. Where can readers grab a copy and what did you want to show fans wityh this collection of music?
 
Ayana: The album is available on popular sites such as iTunes, amazon.com, and I am in the process of placing it on iribbeantunes.com. To grab a copy of the album, fans worldwide can order the album by messaging my facebook and myspace pages. This is a transitional album where my development is concerned, hence the reason why it is a small EP. I wanted to express messages and sounds and new production that i want to develop and take to the next level as of 2011 and beyond. My music is more introspective and devoid of pretense, the message is first and foremost, the key important element when listening to this collection.
Stoli: Do you want to settle down one day and have a family or does music come first?
 
Ayana: I would like to reserve time through which I can develop and shape my life as I have always dreamed…. musically, spiritually, mentally. I see this as the only way that I can successfully have a family life and that is after I have taken the time to evolve into the character that I need to be to understand the world and where I fit in.
Stoli: When I come to Barbados one day, where can I go see some local live music?
 
Ayana: Some of the best entertainment lies along the coastal areas. Hot spots in Barbados for local live entertainment are St. Lawrence Gap and Second Street.
Stoli: I respect your independent hustle and understanding of marketing & promotion. How did you come to learn the business of music like you do?
 
Ayana: I have a team of personnel that assist me in marketing and promotion and allow me to focus on creating and developing my musical skills.
Stoli: Who are two female performers that you respect & listen to their music?
 
Ayana: Lauryn Hill was a major influence in my life because her musical messages were always introspective and Erykah Badu's quirky sense of reality, intrigues me no end. They are truly artistes.
Stoli: What is coming up for Ayana John and where can we follow you online?
 
Ayana: You can follow me on Twitter, on fFcebook and MySpace. I will also be one of the featured Barbadian acts at the South by South West Music Conference in Austin, Texas in March 2011. That will allow me to mix and mingle with the American Music Fraternity. I am excited.
 
www.facebook.com/ayana.john