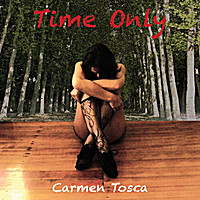 I had the pleasure of reviewing Carmen Tosca's last album titled Wind (http://skopemag.com/2010/03/05/carmen-tosca-wind), which was a breath of fresh air for the most part.   Her new record Time Only stays in the realm of a new-age, electronic and ambient setting.   There are, however, some nice surprises that Tosca throws in like some hot dance beats that are club-worthy.   This unique mix of styles is what makes Carmen Tosca a stand-out artist.
It makes sense that "Carmen" means song and "Tosca" is a Puccini opera because Carmen Tosca is a true musician at heart.   The overall vibe on Time Only is extremely tranquil as was the same case on Wind.   I even mentioned during my review of Wind that "this could be an excellent meditative soundtrack".   Tosca's new release included a song called "Meditation" to further prove this point of mixing music & meditating.   Carmen relaxes your mind & body in full force throughout this entire 12-song set.   Another great example of this would be on the song "Breathe" where you will be inhaling & exhaling with absolute ease.   Her music displays an incredibly peaceful tone on Time Only as Tosca oozes with pure tranquility.  
Carmen Tosca "The Longing":
The CD starts up with the single titled "The Longing" that supplies a tribal feel and one catchy dance beat.   Right off the bat, you sense that Carmen Tosca has an exotic mystique about her.   Carmen adds an elegant touch of piano on "Voulez" while on "Digital Dream" she comes with a funky dance beat during part of the song.   You get some very cool sound effects on "Luring in Trance" and then Tosca turns around and offers up an Old World meets New World atmosphere on "Jump Rope".  
When you listen to this record, you will receive a diverse audio experience for the ages.   The use of sound and focus on percussive elements was something that stood out on Wind and once again shines on Time Only.   I was also very impressed with Carmen's use of beats that incorporated dance & pop, which blended in perfectly with her yoga-friendly tunes.   My only suggestions would be to maybe add in some more unique instruments to the mix.  
Overall, this new album proves that Carmen Tosca is a creative-minded individual who has a lot to offer the music world.   Besides being a music artist, Carmen is also an accomplished photographer who owns Tosca Studio.   Tosca's South African roots are highly present on this new recording as you will see that this worldly artist brings her original compositions to life on Time Only.   The time is right, so why not just go for it Carmen Tosca!   For more info on this talented music artist or if you're looking to purchase her albums, SKOPE out:   www.carmentosca.com, http://carmentosca.bandcamp.com, www.facebook.com/pages/Carmen-Tosca-Music/127952940567250 and http://www.cdbaby.com/Artist/CarmenTosca.  
By Jimmy Rae (jrae@skopemag.com)
[Rating: 4/5]