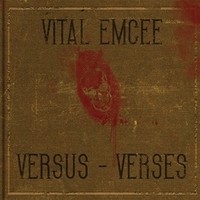 I'm gonna be honest and say that mainstream hip-hop music is in trouble right now.   This V.I.T.A.L. Emcee from Long Beach, California has an answer for this problem and it's Versus-Verses.   With not much to offer the public today as far as quality-driven rap music goes, this MC comes with a total package that's vital to hip-hop fans everywhere.  
Noel Vinson is the man behind the mask and he is a rapper, songwriter, artist and activist.   All 16 tracks on this record exhibit major substance not to mention catchy beats and feverish rhymin'.   V.I.T.A.L. proves on Versus-Verses that he is no joke when it comes to rap skills and flow.   The nice part is that you're getting so much on this album with it all hitting you at once.   You have plenty of party-driven songs that you can get down to, but Emcee also mixes in good messages and thought-provoking lyrics.   One such example would be on tack five "Put Down That Gun" where you hear V.I.T.A.L. saying "the kids say my favorite rap star got one"–referring to a gun.   What's being stressed here is that guns are way too accessible and people like rappers glamorize them.   Kids see this on TV or online and think it's okay to carry a piece, but Noel Vinson is saying hell no to that notion and telling everyone to "Put Down That Gun"!   "Doomsday 101" is another track that will get you thinkin' big time because it's about the end of the world that mentions December 2012 being that time.   On track six "Spanish Harlem", you're getting a smooth Spanish flavor that will make you move.   "Whiplash" is a standout number that is an instant smash hit and one hot single.   On song 14 "Strait Jacket", you're experiencing a hype jam with beats galore and the DJ cuttin' it up nicely.   I also enjoyed the LL Cool J "Rock The Bells" intro to go along with Method Man in the background.   V.I.T.A.L. goes out with a bang on the final track "The Last Song" that displays ridiculous energy and one crazy, fresh hook.  
I was diggin' this entire CD, but some of my favorite songs that really stuck out were: "Off With Their Heads", "Whiplash", "Strait Jacket" and "The Last Song".   I'd also like to add that there were a ton of talented guest musicians on this disc that savored the moment.   One such individual would be Lauren Coleman who showed off some nice singing on "Boomerang" and "Against The World" while adding an element of soul to the mix.   V.I.T.A.L. Emcee stated that "hip-hop needs a savior" on "Off With Their Heads" and I couldn't agree more.   That savior could very well be V.I.T.A.L. Emcee, so keep doin' your thing and never quit because the game needs you!  
By Jimmy Rae (jrae@skopemag.com)
[Rating: 4.5/5]