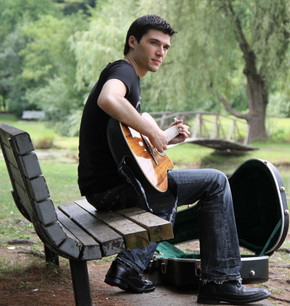 This is an exciting feature to help kick off 2011. I heard my next guest's single "I'm Waiting" on Skope Radio for the first time last year and since then I knew I had to have him on. It is with great excitement that I bring on Frank Palangi. Frank is from upstate NY and his determination to make it in music is refreshing & exciting. Frank's vocal ability is what really grabs me as when you hear him you will be quick to make comparisons but he truly has his own sound. Besides music, Frank is also heavy into film and his Youtube page is worth checking out. Join us as Frank Palangi talks about what guitar he uses, his love of film, the meaning behind "I'm Waiting" and so much more!
Stoli: Where are we talking from today and are you in the holiday spirit?
Frank Palangi: Good old Upstate, NY and yes.. everyone around here is putting up their trees and getting in the spirit. I know my family is..lol.
Stoli: How long have you been playing music and seriously pursuing it as a career?
Frank Palangi: Really since 2005/2006. I decided right as senior year of school was ending to make a independent solo album and see what I could do with it. From there… my creating.. never ended…
Stoli: Your battle with asthma and allergies led you to music and not sports. Do you see that as a blessing in disguise now?
Frank Palangi: I do because some of the things I couldn't really do as a kid, lead me toward movies and music. I could play guitar from the safety of my room/house but I could also get out there to open mics and practice in front of people. I think singing has improved my lung power over the years and help me stand out from the sports and other activities. It has def. shaped the person I am today with the help of my parents and grandfather.
Stoli: You recently released your song "I'm Waiting." Is that song based on a real life experience?
Frank Palangi: I think a song always has more than one meaning in general. Recording this new version brings the track into the mainstream. It deals with someone who you care about who is going down a bad path in life and your waiting, and praying for them to get back on track. For me personally, it's about an old bass player who's life and path, went down hill fast.
Frank Palangi "I'm Waiting":
Stoli: I love the guitar & instrumentals in that song. Please speak on where you recorded the track and who you worked with?
Frank Palangi: I recorded the track in Nashville, TN at Sound Stage Studios. Famous for recording a bunch of country singers from Johnny Cash to rock singer Elvis. I went in the project with record producer Rogers Masson who's works which include The Mavericks, Day of Fire, and mixing for artists like Marlyn Manson. He secured the Grammy nominated rock band Day Of Fire (former lead singer of Full Devil Jacket, Josh Brown) and toured with bands such as Daughtry and Non Point, to assist me in the studio. Rogers says, "This is the baddest rhythm section in the land, and along with the vocal guidance of singer Josh Brown, Frank's songs are going to turn out amazing." I love that I could write, and create everything 100% based on my solo version and go in the studio with them and just hammer out some mainstream tracks.
Stoli: How did you hook up with Roger Masson and what did you learn from working with him?
Frank Palangi: I was at a Day of Fire concert here in Upstate, NY. They have been one of my influences for sometime and I wanted to meet the lead singer, Josh Brown. Before they went to play their set, I did meet him and talked with him after they were finished, gave him my 2nd solo independent that I recorded in my home studio and he said he would listen to it. Couple days later, I heard from his producer, Rogers, and I couldn't believe that I was talking to a record producer! The feeling was awesome! Over 4 months of emailing and calling, we then scheduled a date to start recording. He's a very nice guy, great producer and I give me credit for help giving an independent artist a helping start.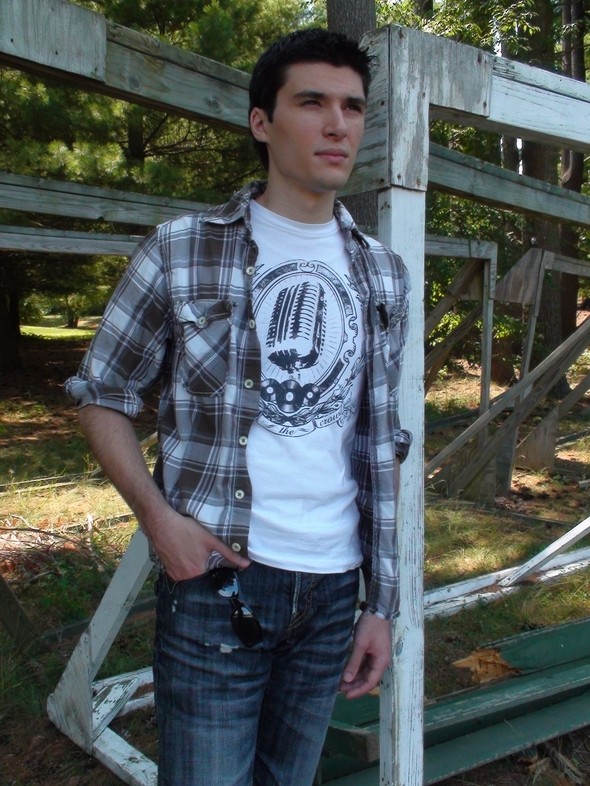 Stoli: Can we expect a video for "I'm Waiting" and if so what would the theme & storyline look like?
Frank Palangi: Maybe in the future after the EP is finished. I'm actual going to be releasing a music for "Remembrance" the solo acoustic track with strings. It's tough because Day of Fire recorded the track and I don't have an official full live-up yet to record a video with the band guys. This music video is going to be filmed very soon by Editor and Director Jeff Knight, who has worked on some great music videos in NYC. The story is about remembering life. Flashbacks of the past, memories, pictures spread about. It's going to be very cool!
Stoli: Who are two other musicians that you respect and listen to?
Frank Palangi: Metallica and Creed. Great bands, talent, and meaning in their songs.
Stoli: What does music offer your life that nothing else in the world can offer you?
Frank Palangi: I think for a lot of people it's an outlet to get their feelings about. It's some of that for me and some of I just love to play music. Writing songs and hearing them come together is a neat feeling of "wow, that is actually working"..lol   It's everything that I want to do in a career and for the rest of my life.
Stoli: Besides music you also make films. Speak on what you love about movies and how music & film come together for you?
Frank Palangi: I've loved movies ever since Terminator 2 came out. I've always wanted to make films, and act. I think just creativity with that and music are pretty close. When I was a certain age I started playing around the old VHS cameras to see what I could do to make a film. I started with fan films to help create an all ready known style to see if I was doing anything right..lol     I'm been making filming for years now.. I've got a couple of original films, I've acted in Taking Woodstock from 2009, some other local straight to DVD types, and worked crew on a few.
Stoli: What is your guitar of choice that you use and how do you keep your skill sharp?
Frank Palangi: The Explorer. The Explorer. The Explorer. I don't know why but I can play my best on one. It might be the position, thinner neck,…i don't know…   I still play electric guitar and solo from time to time. I would love to put out a Megadeth, Metallica type track because really my playing style. I use Ovations for acoustics. Great bass sound, well built. Really cool.
Stoli: The US is in rough shape. Do you feel these politicians care more about their careers & party than their constituents?
Frank Palangi: Honestly, I don't really even follow what the governments doing because feel, hey.. I'm not a politician or someone who works in the government so I can't do much and don't care to hear them debate back and forth.
Stoli: You have a heavy online presence. What have you found to be most effective in attracting new fans?
Frank Palangi: Internet is really a blessing. Without it.. I don't know where I would be at. The facebook, twitter, myspace sites are great… but I think it's the combination of radio, press, social sites, personal emails of promotion that really help (and the tracks also).)+( plus the way you represent yourself.) The local shows, clubs only go so far after a while. It's a lot of hours in front of the computer.
Stoli: What is coming up for Frank Palangi and where can we follow you online?
Frank Palangi: A lot is happening right now. I'm getting ready for the 2nd session to finish recording my EP with the Nashville gang. I'm taking video sessions over skype with Josh Brown to work on songwriting, and getting some great mentoring. I've got the music video/2nd single coming out "Remembrance" early 2011. I'm Waiting has been getting great response, added to internet, local FM, and some national FM stations and is climbing the ranks in their charts. A lot of great press around it also. I recently tried out for America's Got Talent, so we'll see where that goes and working on getting worldwide distribution to for the new track/music video coming out. + maybe a future tour?
I really couldn't have dreamed it would have gone as far along as it has, and it can only get better.
www.myspace.com/frankpalangirocks
www.twitter.com/frankpalangi
www.facebook.com/pages/Frank-Palangi/136361090085
www.youtube.com/palangistudios
Get "I'm Waiting" on Itunes, Napster, Amazon MP3, Rhapsody and more!