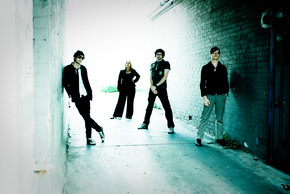 A very Merry Christmas to all Skoped Out readers all over the world. Even if you do not celebrate the holiday you can still get in a jolly mood. I have been saving this next feature for the perfect time to unleash a band that is making industry insiders & music fans take a second listen. Coming out of New Zealand is Ross Royce. This four piece put out their debut album 'Life Worth Living' this year and it has put Ross Royce on the map for sure. If you are looking for upbeat, catchy, and fresh rock then this band has just that. Join us this holiday weekend as Ross Royce opens up on a range of topics and offers an MP3 to take with you!
Stoli: Where are we talking from today and how is your week going?
Ross Royce: Hi! We are in Melbourne, Australia currently and the band have had a very productive week with radio play and interviews here in Australia!
Stoli: How much of your everyday is based around music and when did music become more than a hobby to you?
Ross Royce: About 6-8 hours a day would be devoted to music weather it be performance, rehearsal , practice or business related things to do. Music became more of a hobby to me from about age 12 when all my spare time was devoted to practicing drums and guitar.
Stoli: After you finished the song "Life Worth Living" did you know you had a hit and what inspired that song?
Ross Royce:   We thought it was a good song but did not know how far it would go and have been pleased that a lot of people like the song! The song was inspired by my part time day job at the time just working in a factory and wanting to break out of that boring job and be somebody!
Stoli: How did you decide to call the band Ross Royce and how did the five of you come together?
Ross Royce: The name of the band was a bit of a joke at first but it rolled off the tongue easily and could be associated with that car (Rolls Royce) I guess but it wasnt intended that way. The band came together after I put an ad in all the music papers in Melbourne and came across two fellow New Zealanders and two Australians so the mix of the band is good!
Stoli: Being from Australia do you feel like the Internet has made it easier to reach new fans all over the world?
Ross Royce: Yes the internet has been fantastic for independent artists to reach the World with their music and for record companies to take notice if a band is happening on the web.
Ross Royce "Life Worth Living"
Stoli: Do you all work on the band full time or do you have other gigs to help with the bills?
Ross Royce:   We are all nearly full time with the band although some of us have part time jobs to supplement the income, but not for long!
Stoli: Why have many bands opted to put out EPs as opposed to full albums nowadays?
Ross Royce:   Putting together an E.P is cheaper and quicker to put together if you are on the road for example but I prefer albums if they are carefully thought about and worked on over a longer period as they are more of a complete work.
Stoli: You guys are big on videos which is awesome. Who directs your videos and how important is a video in pushing a single?
Ross Royce: We have worked with various up and coming independent video producers in Melbourne who direct the videos and i have even done some of the filming myself on some of the earlier videos! The video can be an effective tool to push a single if it is a little off beat, and quirky; sometimes a filmed performance can be effective too.
Stoli: If I were to come hang with you in Australia. Where would we go to see some live music?
Ross Royce: Melbourne is the best city for live music in Australia and has the most venues for original bands where as the other citys such as Sydney are good for sightseeing but not so much to see live bands.
Stoli: Do you feel that musicians have a responsibility to their young fans that look up to them in regards to drugs & alcohol abuse?
Ross Royce: I guess musicians do have a responsibility and it is important to do things in moderation rather than go to excess; although having said that some of my favourite musos were under the influence quite a bit like Jimi Hendrix and Keith Richards, as long as you don't take too much and don't hurt anybody.
Stoli: What is one thing that Skope readers should know about Ross Royce?
Ross Royce: Three of us are originally from New Zealand.
Stoli: What is coming up for Ross Royce and where are you online?
Ross Royce: We are currently pushing our song "Life Worth Living" to mainstream radio in Australia with some good results and we will be following this up with a mini tour of Australia later in the year . We are also planning to come back to the U.S (we were there in July) for perfromances including hopefully the South By South West music festival in Austin, Texas in March. Music, band info, photos and band videos can be found at www.myspace.com/rossroyce or www.rossroyce.com.