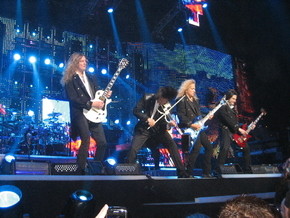 I've decided that there are basically three types of music lovers/concert goers during the Christmas season.   The ones that have seen TSO previously (were impressed and likely recommend and attend again), ones that make it a yearly tradition, and then there are those who are totally oblivious to having a seasonal great time!  
For 12 years, this mighty ensemble has touring both coasts to sold out crowds, and plowing money back into the show to maintain a unique experience.   Guitarist Chris Caffery (who at one point sported a Colt McCoy #12 jersey), was joined this year by Joel Hoekstra (Night Ranger), bassist Dave Z, drummer Jeff Plate, keyboardists Luci Butler and Derek Wieland, and lead violinist Roddy Chang.   A local string section complemented them as always.  
Every year there are new surprises in the music and presentation.   This year, I noticed two big overhead lighted ramps, extending out to the middle of the arena.   At game time, there were big overhead torches above the stage with platforms behind them.   As the show kicked off, these extended out and down toward the audience bearing the guitarists and violinist.   Later, the two big ramps went on the move, and the guitarists, violinist, and later the dancers climbed aboard, and ended up being lowered in front of the audience in the middle of the arena.   They also utilized a stage near the mixing board in the middle of the floor area. The backdrop extending from the stage ends to the walls of the arena enhanced the stage illusions. The use of the video screens showing everything from news events to an attack helicopter, extended around the arena perimeter via visual monitors.   The flame pots were synched to the music, the laser light show was incredible, and an actual fireworks display complete with spinning pinwheels was launched.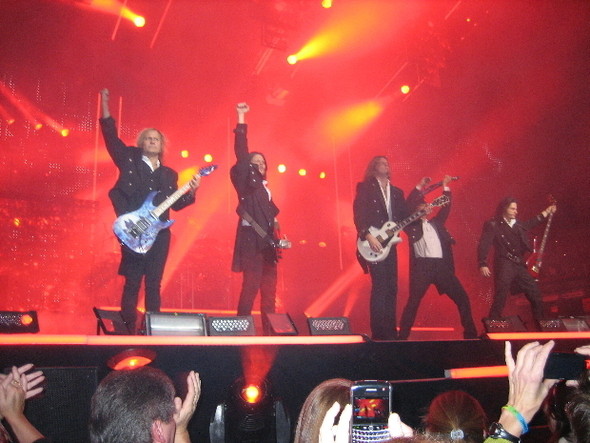 The Christmas portion was done flawlessly, and the second half rock section included material from the Night Castle album.   Two segments were unique to Cleveland (origin of their live show) the group did Cleveland Rocks, and later singer Kayla Reeves was accompanied acoustically by creator Paul O' Neill, before going into a full force medley including The Beatles Help.  
Want to give something unique for Christmas that will be discussed for years to come that starts in the $20 range?   And guess what?   When you buy your tickets or a gift for someone special, you are still helping someone, as one dollar from each ticket, from each show goes to a local charity (Plain Dealer charities in Cleveland).   The performance is rock opera meets Vegas meets Broadway, with a stage set that is reminiscent of both The Wizard Of Oz, and Metropolis. They are the hardest working group in the biz, with a grueling schedule comparable to a professional sports team, except in many cases, they also perform two shows in a day!   Haven't seen them yet?   Step your game up!  
By R.M. Engelman