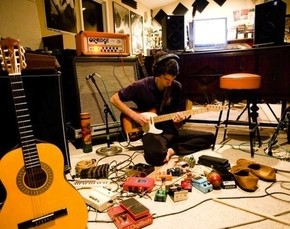 Delicate Steve is a band–at least, it's a band in terms of live performance, where psychedelic guitars and tribal drums are brought to life in a melodic sugar rush of band energy.   On album, though, Delicate Steve=Steve Marion, producer/guitarist/multi-instrumentalist/arranger/lover of weird noises.  
His debut album under the the Delicate Steve moniker, <i>Wondervisions</i> comes out via the Luaka Bop label February 1, 2011.   It's a strange trip–Instrumental textures that wouldn't sound out of place on Animal Collective or Dirty Projectors albums are heightened to melodic extremes, never settling for mood or texture, always going for the jugular with Marion's soulful, lyrical guitar playing.
Marion recently chatted with Skope about his new album, adjusting to life on the road, and his eclectic range of influences.
February's a few months away, but in the meantime, you can catch Marion and company on tour with Fang Island.   Check out their Myspace for dates and tunes:
Skope: Hey, Steve, this is Ryan from Skope.   Thanks for helping us out today with this interview.   First off, where are you calling from, and what's going on?
Delicate Steve: I'm calling from a street in North Carolina.   I'm going to a grocery store to pick up some tea and lemon…feeling a little under the weather.
Skope: So you guys are on tour right now–how's that going so far?
Delicate Steve: Yeah, we're on tour with Fang Island right now–our fourth day, playing The Local 506 tonight.   It's been awesome so far; we're having a blast!   This is our first tour any of us have ever done that's been more than like four or five days, so it's really cool.   We're loving it out here.   We had some tour van problems before we got here, but we got that straightened out, so everything's been great so far.
Skope: I know it's a little early in the game, but has there been a particularly memorable tour date so far?
Delicate Steve: Yeah, it's only our fourth day, so the first show in Philly was great; we played two shows in one night, which was awesome!
Skope: Maybe my favorite thing about 'Wondervisions' is that it's an instrumental album but never feels like one.   There's a whole lot of melody going on here.
Delicate Steve: Sure! I don't know–when I was making it, I knew I couldn't sing or write lyrics, so I just never thought about singing when I was making the songs.   I was kind of conscious of trying to make a melody for each thing, layered tracks with background-sounding instrumentals.
Skope: Since you make instrumental music, you probably get asked a lot about why you don't have lyrics.   What I want to know is this: have you ever written songs with lyrics, or did you know straight out the gate that you wanted to go the "no words" route?
Delicate Steve: No, I've always recorded lots of my friends' bands and their albums, and I've always taken to the role of guitar player/producer/arranger of the songs, and I always felt pretty comfortable with that.   Playing that music, I felt really satisfied.   I never felt like I had to try vocals myself; I still haven't really thought about it making new songs and stuff. I would never really rule it out–I don't consider Delicate Steve an "instrumental band."   It feels more like an art project, and it could morph into something different.   I don't want it to be constricted to calling something it is right now but could change later.
Skope: You guys make really weird music obviously, but one of the things that strikes me most about 'Wondervisions' is how soulful it is.   Some of these guitar lines sound pretty damn passionate.   Is soul music an influence for you?
Delicate Steve: Oh, yeah…I love soul music like Otis Redding, Aretha (Franklin), Sam Cooke, definitely a huge influence…Allman Brothers.   Duane Allman on slide guitar is like the reason I wanted to pick up the slide, and also Derek Trucks is a huge influence as a guitar player.   I think he's the pinnacle of lyrical, soulful guitar playing.   He almost sounds like a gospel singer on slide guitar!
Skope: Oh, yeah!   He's basically a guitar god…
Delicate Steve: Yeah! He's amazing.
Skope: I was planning on asking you about the Allman Brothers influence.   I think you're definitely tapping into that Duane Allman, Derek Trucks realm of playing on 'Wondervisions'…
Delicate Steve: Cool! I listened to them a lot, especially a couple years ago, when I was trying to develop my slide guitar playing.
Skope: Take me through the typical Delicate Steve songwriting process.
Delicate Steve: It was kind of like…I made this album last year around this time–October, November last year.   I had this little home studio set-up in my bedroom with a computer, my guitar, some pedals.   I play with my friends a lot, so I had some of their gear over there, so at the time, I had just toms and a kick drum, and then I had a keyboard that my friend left over there.   So, basically, I just had all that stuff at my house, and I just kind of went for it.   I've been playing guitar for awhile, but I'd never really decided to write songs.   I guess the one typical thing that was pretty transcendent.
By: Ryan Reed – rreed6128@hotmail.com