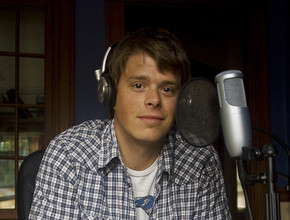 If this week is not one of the most exciting weeks of the year I do not know what is. Being that Christmas starts on Friday night I wanted to bring on a guest that is real hip hop but he speaks to the kids. When I first heard of Rhymezwell I had my doubts, but was I wrong. This is not just a feature on another emcee with dreams of fame & fortune. Rhymezwell uses his lyrical ability to teach his class of 3-5 year olds everyday at the nursery school he works at in MA. He even offers a FREE MP3 of "I'm A Pirate" and his album 'Nursery Rhymez' will be out in 2011. For all the parents out there, this interview might teach you a thing or two!
Stoli: Where are we talking from today and where will you be spending New Years?
RhymeZweLL: We are talking from Boston, Massachusetts, where I live. And where ever it is that you live?   As for New Years, I will be performing on New Years Eve in Needham, Massachusetts.   The Needham Arts Council is putting on an event called "New Years Needham" It's a bunch of various shows and parties and events for the kids on New Years Eve. I'm performing at a great venue called Creative Movement and Arts Center in Needham, Massachusetts at 1:30PM.   So if you're around, come and check It out.   It's for the kids,   but it'll be a good time for the whole family.   After that I will be spending a chill evening on the couch with friends.   Been there done that when it comes to going out on new years man. Amateur Night.
Stoli: At what age did you start writing rhymes and what would you talk about?
RhymeZweLL: Good question, I guess I started writing rhymes in 7th grade so whats that like 12 or something?   I really started getting into hip hop around then and it was a great way to NOT be paying attention but still look like I was in school. That's a great message for the kids. When I first started writing, I would write about guns and gangsta stuff I wasn't REALLY doing but that's because that's all I knew really with hip hop.   And I was 12 so…   How do I know?   I had that Deep Cover record with Snoop and Dre.   That's what I listened to and I would just copy that sorta stuff.   I wish I still had those tho, that would be comedy gold I'm sure.
Stoli: Who are two hip hop artists that had the most impact on you to become an emcee as well?
RhymeZweLL: I would have to say Snoop is one of them.   Like I said one of the first tapes I had was Deep Cover and I bumped that for EVER.   That's all I would listen to.   The other would be Redman.   When I was in high school Muddy Waters was my absolute favorite.   It still is.   Redman's lyric are so crazy and he has so much energy.   He's definitely one of my top emcees of all time.
Rhymezwell "I'm A Pirate" MP3:
Stoli: You are a nursery school teacher as well. At what point did you come up with the idea merging your rhymes & the children that youn teach?
RhymeZweLL: I've been recording and performing hip hop for the better part of ten years out here in Boston. About three years ago I took a job as a Nursery School Teacher in Newton, Massachusetts.   For three years I spent the majority of my day with 3, 4 and 5 year olds.   It was a very natural progression.   I believe good songwriters write their music based on their environment and their life going on around them. Since I was hanging with kids I thought, "Maybe these kids would want some REAL hip hop music they could relate to?"   There certainly is not much on the radio for kids nowadays.   So with that in mind, I just started choosing topics I thought kids would enjoy and started writing.   I didn't have to change anything really because there was no need to water down the lyrics, kids are super intelligent. They don't want to be mocked.  
Stoli: I love your song, "The Clean Up." What inspired you to write that song?
RhymeZweLL: Haha, I wrote that song based on events that happen at school right around clean up time.   The kids never want to end the projects and activities they're doing because they're having fun.   So I wanted to try and make clean up fun by rocking a song about it.   It's catchy and it's also a good cue for when it's time to stop playing and start cleaning up.
Stoli: Your beats are tight. What producers are you working with and what do you listen for in a beat?
RhymeZweLL: Thank you, I actually produced the entire album myself.   I enlisted the help of my man Christian Soule for one track, "I Love Music featuring Wordsmith" but I produced the rest myself, here in my apartment.   When I'm picking a beat or making a beat, I really just start banging out a drum beat and see where it goes.   If I get an idea for the concept of the song pretty early on, then I know I'll just keep going with it.   I have a lot of unfinished beats… I really just look for something that gives me an idea for a song.  
Stoli: Does your beats selection and vocal sound throw people off after they hear what your are talking about in your rhymes?
RhymeZweLL: Haha yeah I think so, a little.   When I first played 'I'm a Pirate' for some of my friends they were like, "This is sick, wait this is about pirates?"   You know they were just, kind of, listening to it probably just humoring me.   But then they heard the "AARRGH" and got on board with it. Pun intended
Stoli: Do you feel hip hop can be used as an educational tool and does the genre have a bad reputation?
RhymeZweLL: I absolutely feel that hip hop can be used as an educational tool. I use it everyday at school.   Think about what we learned in school, Mother Goose, Aesop.   They were all Rhymes.   Essentially, that's hip hop just minus the beats.  
I definitely feel it has a bad reputation but I also feel that it earned that reputation.   I don't honestly feel that there is much positive music out there on the radio as far as children are concerned.   There is a lot of money, drugs, violence, and objectifying of women…   That's why I recorded 'Nursery RhymeZ.'   I wanted to give the kids a REAL hip hop record full of stuff they can relate to, because they're not getting it on the radio and on TV.
Stoli: I was very impressed with your album 'Nursery Rhymez.' Where did you record that and how long were you writing the songs?
RhymeZweLL: I recorded this album for about a year, maybe a little more.   I started off writing it slowly just for fun, a few tracks here and there. Then it really started to take off, and the kids at school were loving it. I really got into it and just began rattling off tracks at a feverish pace.   Haha, not really but, I really started enjoying it more and more as I got into it.   I actually recorded and mixed the entire album myself in my apartment in my makeshift 'booth of truth.' I had it mastered by Kevin Salem of Little Monster Records. Shout out to Kevin!!!
Stoli: Do you write the lyrics before you choose the beats or vice versa?
RhymeZweLL: 99.9% of the time I write the song to the beat.   I like to get the feel of the beat and have that dictate how the song will go.   There were a few special occasions that I have had an idea for a song and so I wrote it to a metronome, but the majority of the time I have the beat and then I write to that.    
Stoli: Does it bother you if people don't take you seriously as an emcee due to your image and subject matter before hearing you spit?
RhymeZweLL: No matter where you go or what you do, people will judge you. People will assume things about you by how you look or talk or where you're from.   That's life.   I like to let my music speak for itself.   Bottom line is, the music is not for those people that will judge based on appearance.   The music is for the kids, so they can have some hip hop to have fun with and relate to.
Stoli: Do you have children and will you pass on your passion for hip hop to them?
RhymeZweLL: I do not have any children.   I hope to one day, but not now.   If I do, I will absolutely pass on my love for hip hop.   Maybe they will feel how I feel, maybe not.   No matter what they want to do tho, I will support them 105%.   Just like my parents did. Hi Mama RhymeZ! Hi Dad!
Stoli: What is coming up for Rhymezwell and where you at online?
RhymeZweLL: As for me, "NURSERY RHYMEZ' my debut album, will be released on February 8th, 2011.     It will be available for download via Itunes and Amazon and also hard copies will be sold thru my BRAND NEW WEBSITE www.RhymeZweLL.com thats www.RhymeZweLL.com. Also on February   12th I will be having my CD release party in Lower Newton Falls, MA. Check the website for details on that, but all proceeds from tickets will be benefiting a fellow teacher who is running the Boston Marathon for the Dana Farber Institute.   It's a great cause, so check the website and come and party.  
Other than that, there's the New Year's show and whatever else I can get my hands on! I'm excited for the release and for the New Year.   I'm already recording my next album as we speak, so I have a couple real exciting special guests on the album I'm getting ready to record with in the near future, so, I'm busy with that and with teaching.   I teach a hip hop recording class to middle school kids twice a week on top of nursery school, so between this and that I have a lot going on. Busy Busy!!!   Big thanks to Stoli, and Skope Magazine for the interview. Thanks to Foley Entertainment Inc. CHECK www.RHYMEZWELL.com!!