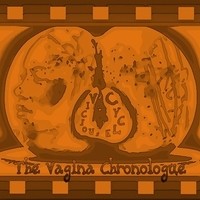 Vicious Cycle is a female rap duo made up of: Money and Neeky Devero.   This tag team is taking girl power to a whole other level with their new release The Vagina Chronologue.   Dainty and lady-like goes way out the window here as Money & Neeky Devero give you a raw and un-cut performance.  
I can't help but think back to the likes of Queen Latifah and my all-time favorite female rapper MC Lyte–Cha Cha Cha!   You also can't talk about the female rap game without mentioning: Salt-N-Pepa, Missy Elliot, Da Brat, Eve, Foxy Brown, Lil' Kim and Lauryn Hill.   This is your crème de la crème when it comes to female MCs and I'm so happy to see ladies like Vicious Cycle carry on this tradition.   I'm not even remotely saying that VC is better than or even as good as the artists listed above, but I will say this much—Vicious Cycle holds their own amongst the elite.
The new record definitely makes a bold statement toward women everywhere and that is emphasized with major ATTITUDE.   You've heard of NWA I'm sure; well now you have GWA–Girls With Attitude!   Neeky and Money do not hold back one bit when it comes to dishing out their rhymes on The Vagina Chronologue.  
Right away I could tell that these ladies are not messing around and that they prove to have serious rap skillz.   On the opening track "Don't Sleep", you get an R&B flavored chorus that also appears again on track four "Natural".   The R&B element here added a nice touch toward the overall songs.   I'm also lovin' the hot beatz on this CD like on "Write One" where you hear a funky, fresh back beat that's nicer than nice.   VC is bringin' the heat with catchy-ass hooks and music that will make you bounce for hours.   I did notice something out of the ordinary here with Vicious Cycle using classic TV show theme songs as parodies.   I picked up on Sanford and Son, Laverne and Shirley, Gimme a Break! And even the Golden Girls!   I'd love to hear what Betty White herself has to say about the song "Fold 'Um Girls" where Money and Devero turn the Golden Girls into the Brawlin' Girls!  
In the end, I'm very impressed with Vicious Cycle because they convinced me that they are a rock-solid team when it comes to spittin' rhymes.   They have got my attention and should now be a major force to be reckoned with in the rap/hip-hop world.   My only suggestion is to lay off the cheesy parodies because it did not do them any justice and it only took away from the quality & credibility that made this album so strong.   I understand if VC wants to mix in some funny bits here and there for character, but I would keep it short and keep it to a minimum of 1 or 2 songs at the most.   I can tell Vicious Cycle is no joke and The Vagina Chronologue is no laughing matter, so let's keep it that way.  
http://viciouscycle.bandcamp.com
By Jimmy Rae (jrae@skopemag.com)
[Rating: 3.5/5]