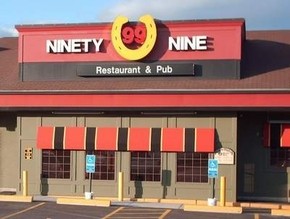 Skope Live! & Fleming Enterprises will be hosting the first Guitar Hero Tournament in Waltham, MA at the Ninety Nine Restaurant this Monday November 29, 2010.
Ninety Nine Restaurant
110 South Street
Waltham, MA 02453-3538
(781) 893-4999
www.99restaurants.com
Come by from 7 pm – 10 pm and play to win great prizes from Skope & Guitar Hero. While there, enjoy an ice cold beer and delicious dinner. From burgers, nachos, salads, there is so much good food at a great price!
There are always 99 reasons to visit the Ninety Nine Restaurants.
**CLICK HERE TO SPONSOR THIS EVENT**
Contact: mfriedman@skopemagazine.com / jfleming@FlemingEntertainmentEnterprises.com