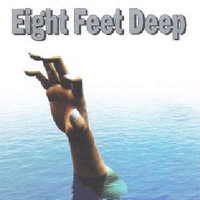 Eight Feet Deep is the latest project from Long Island, NY guitarist and songwriter Billy "Pills" Fridrich.   Fridrich has played guitar and written for his previous bands Celestial and HeavySurf and also plays throughout the NY area in a side project called No Excuses.   Eight Feet Deep is comprised mostly of Fridrich given the fact that he wrote the songs, plays lead, rhythm and bass guitars and writes and programs the drum tracks too.   He's joined by former Riot vocalist Mike DiMeo and the songs were recorded at On Track Recording.   This particular recording is essentially an EP consisting of four tracks and coming in at just about 17 minutes.
The album opens with the song "Leader" and the first thing that stands out are DiMeo's growling vocals.   This is guitar-based rock and DiMeo is certainly up to the task of matching the bluesy guitar riffs with his passionate voice.   "Throwdown" is an upbeat rocker and DiMeo again shines against the heavy guitar backdrop.   Fridrich has put down some nice guitar work as well.   "No Regrets" is the third track on the EP and it shows a bit of a different direction with a nice half-time section and some throw-back chord progressions giving this one a flavor somewhere between classic rock and early 90s alt rock.   The final track, "My Friend" has some clever tempo changes dropped in and features Fridrich's by now familiar guitar work but again, DiMeo's vocals certainly take the spotlight.   The production formula is pretty straightforward centered on DiMeo's voice and well-performed backing vocal tracks.   Fridrich provides the guitars, bass and drums and the mix is clear and balanced with nice treatment on the lead vocals.   There are clearly a lot of influences for Fridrich and many come to mind on listening to Eight Feet Deep.   I hear elements of bands like Candlebox, The Cult and perhaps even a touch of Pearl Jam combined with riff-heavy sounds from earlier 80s bands like White Lion and Van Halen thrown into the mix.  
Although the EP is produced pretty well and sounds balanced, the only element that really sounds ready for prime time are the vocals.   DiMeo delivers consistently across the tracks but a lack of great melodies holds him back to an extent.   Fridrich has some good guitar chops but his tones never really vary across the songs and adding in some variety would be a welcome addition.   The arrangements could benefit as well from more dynamics to add interest.   The sound on the drums is decent but the performance/programming really needs help.   I'd suggest that Fridrich and DiMeo hook up with a drummer to record with or who they can work with to program more realistic drum patterns.   The rhythm section lacks consistent groove or feel and at times sounds quite disjointed and out of sync.   The vocals really hold the whole thing together but the way it sounds now it's more demo-ish in quality and performance than a true EP.   A real, live drummer would certainly help these guys out and some work on the song arrangements could go a long way too.
It's clear that there's some real talent here, especially on the vocal end of things.   It's not easy to perform and record multiple instruments and make them sound cohesive and therein lays my issue with this EP.   I think it's a great example of potential that could be realized with a bit more work and further collaboration.   Worth checking out but consider it a work in progress.
www.myspace.com/eightfeetdeepband
Review By: J.D. Stefan
[Rating: 3/5]