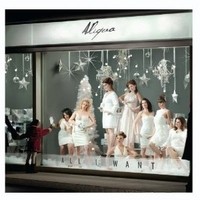 The cover of All I Want, the holiday-themed sophomore release from all-female choral/pop group Aliqua, features all eight vocalists posing as mannequins behind the glass of a department store window. It's a troubling image–anyone who's listened to a Christmas compilation in the past thirty years probably knows holiday music has seen better days (Besides, the only two Christmas songs worthy of a listen for actual musical pleasure were written by Beatles–John Lennon's "Happy Christmas (War is Over)" and Paul McCartney's euphoric "Wonderful Christmastime"). I'm sure the cover was designed solely as a cute seasonal visual trick, but for holiday music skeptics like myself, the lifeless mannequins seem to forebode a candy-cane-coated, personality-drained snoozefest.
Good news: All I Want is actually worth a listen. It's not even Thanksgiving yet, and I have no problem blaring Aliqua's inspired take on "Dance of the Sugar Plum Fairy" through my car stereo (although I will admit I stop singing along when other vehicles pass). Their version replaces the cinematic orchestral pulses of Tchaikovsky's Nutcracker piece with a chilly flurry of wordless vocal doodles. Halfway through the sort-of remix version "Sugafunscary", the tempo drastically slows, big hip hop drums exploding from virtually nowhere. Things speed back up, then abruptly twist again, the tempo accelerating wildly. Synths blare; strings saw. It's a sonic thrill-ride from one of the most unexpected sources possible.
From a vocal standpoint, it's pretty clear the ladies have had some training. Every track is a slick, professional exercise in tasteful technique. But what really keeps you coming back are the inventive arrangements. Did Aliqua really just put out a holiday album designed for headphones? Did we really even need one? All I Want leaves you with a lot of questions. And that's probably its best quality.
Ryan Reed – rreed6128@hotmail.com
[Rating: 3/5]