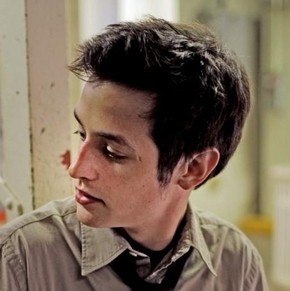 A rainy, wet, & cold Monday in New England. Maybe I should have not had that last drink last night, oh well?! I knew to get things going this week I need a musician whose music will help get my mood positive & my attitude right. That musician is Scott Wesley. Scott Wesley is a singer/songwriter from Chicago who Icaught wind of after seeing his video for "Open Eyes." I was just blown away by the simple, honest, & appealing music he was putting out. Scott has been playing music since he was 5 and he signed his first deal by 15. Start your week off right and give Scott Wesley a listen!
Stoli: Where are we talking from today and how was your summer?
Scott Wesley: Do you mean, where am I sitting at this moment during this interview? I'm in between work & practice, great time to answer these questions from my home.   My summer was extremely busy with gigs & practicing for those shows.   Most week-ends we had 2-3 shows.   Depending on the type of show I played, whether acoustic or full band, I've had to use 2 different drummers.   So practicing was a challenge and scheduling the band was interesting. Busy, busy summer!
Stoli: How long have you been pursuing music as a career and What challenges have you had to overcome?
Scott Wesley: I've been writing and performing for about 10 years now.   But as a musician it's not just about that, it's also about being in business.   So, I've been pursuing my career from the business side for about 3 years.   The biggest challenge, for me has been learning the music business and the importance of it, because to make a career of this, it's not just as easy as writing and recording.   The band, studios, recordings, the label, networking, self-promoting, marketing etc and the people involved,…are challenging everyday, so the only obstacle I've recently overcome is learning how to juggle it all. Still learning.
Stoli: Would you say that your family has been supportive of your musical journey and if so how?
Scott Wesley: I was 15 when I was signed with Fourwinds , so my parents had to be supportive of this decision in order for that to happen. Since then, my Mom has really helped me in every part of my career.   My Dad would make investments and give advise.   The whole family will come to my shows when they can, and always take time to listen to any new demos I home record, then will give me some feed back.   My brother does the art work for my album covers.   My sister helps rally friends to shows.   People tell me all the time that I'm very lucky to have such family support.   I have to agree.
Stoli: Do you ever sit down to write music and nothing comes to you and how do you get those creative juices going?
Scott Wesley: Writing/composing is my true passion.   If I sit down to work on a song, it's because I already have an idea for a new tune.   Sometimes I hear the instrumentals in my head so I'll record those and add lyrics later. Or sometimes I'll have lyrics and add instrumentals.   Once I do this, my creative juices really take off.   Then I can crank out several new songs in a day or two.   But I can go a couple of months with no creative juice flowing…I guess that's called a writer's block. I always freak out when this happens, but then one day, something will hit me, I'll get a new idea and get my creative juices flowing again.
Stoli: Your album 'Seconds to Years' was released in 2 parts. What was the strategy behind doiong that and are you happy with the results?
Scott Wesley: The strategy in splitting the album, was to give my fans fresh songs between spring and fall.   Keeping their attention for a longer period.
[youtube rjweEyYt9RU nolink]
Stoli: How long were you writing & recording this album and who did you work with?
Scott Wesley: The songs I picked to record for this album, were written over time.   Some were from as long as 8 years ago, some from a couple of years ago.   I have a lot of home recordings, so as I go into the studio, I pick the ones I I'd like to use on my next cd.   It took almost a year to finish this album. I worked with 2 different studios on this, "Planet10 Studios" & "Cassette Company".   It's a long story.   But most of this album was recorded and produced by Cassette Company here in Chicago.
Stoli: What is the most exciting part of being a musician with the Internet & social networks?
Scott Wesley: The most exciting part is the instant positive feedback I get from friends and fans who hear a song for the first time.   If it wasn't for the internet and social networks, I'm thinking musicians in the past, had to wait for fan letters or reviews.   It's a great era for musicians now with all the internet possibilities but lots of work too.   Connecting with people from all over the globe is awesome too.
Stoli: If you could work with one musician that you admire who would that be and why?
Scott Wesley: Jon Mayer would be my choice today.   His music is always evolving.   It goes without saying he's an awesome singer/songwriter.
Stoli: You obviously love music but what other things in life do you enjoy?
Scott Wesley: I enjoy lots of things when I have time.   Wakeboarding, hiking, skateboarding, snowboarding, movies and of course lots of other music.
Stoli: Being a musician is a full time job. Do you ever want to settle down and have a family one day?
Scott Wesley: I just turned 21 so feel I have some time but yeah, I'd like to get married and have kids someday.   It will be a huge balancing act.   I just hope it never comes to making a decision between music and family.   That would suck.
Stoli: What is coming up for Scott Wesley and where can we follow you online?
Scott Wesley: College shows and city gigs are being booked. I have some live radio interviews and performances this fall.   Suppose to have a feature in a major magazine sometime this fall.   If timing's right, "Your Last Song" and "Sun & The Water" are slated for being used in an indie film showcasing at Sundance, Tribeca & SWSX film fest's.   "Sun & The Water" is being aired over Six Flags Radio throughout their nationwide parks. There's a couple licensing deals in the works.   My album will be pressed and released this fall, but all the tunes are available now on iTunes, Imeem etc.   Anyone can catch up with me at one of these sites. I respond to all. Thanks for your time here!
 
www.facebook.com/scottwesley
www.twitter.com/scottwesleyband
www.myspace.com/scottwesleyband
www.scottwesleymusic.com
scottwesleymusic@gmail.com