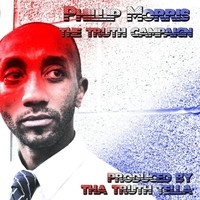 Chicago-based MC Phillip Morris has proven himself to be one of the ultimate wordsmiths of hip-hop on such albums as Instrumentality (2007) and   The Process of Addiction Has Its Costs (2009). His latest album, The Truth Campaign, grabs modern day lotus-eaters by the collar and makes them question their addiction to   manufactured consent,the 24-hour news cycle and inane pop culture.
"I need to Auto-tune my pockets, 'cause I can't touch them c-notes."
-Phillip Morris
Sounding like a nasal Cadence Weapon, Prince Paul and MF Doom, Phillip Morris' delivers lyrics that are reminiscent of the philosophies of Marshall McLuhan, Noam Chomsky and Canadian marijuana activist Marc Emrey. Songs like "What the Hood Could've Done to Us", a loving look back at life in the ghetto, Ã  la Scarface's "My Block", "A Stroke of Genius," a hilarious club song about masturbation, and the spot-on satire of egotism in modern hip-hop, "Egolaboration," prove Morris' lyrical prowess.
With its first-rate beats supplied by southern France's Tha Truth Tella (aka Jean Quesnel), The Truth Campaign contains a plethora of earworms. The album's producer samples widely and eclectically to create these catchy tracks. Millie Jackson's "I Still Love You"is featured on "Vacant Doorways;" Bobby Vinton's "Trouble is My Middle Name" supplies the backing track for the De La Soul-esque "Trouble is My Middle Name;" and "Alabama Song" (Whiskey Bar)by The Doors   and "Moon of Alabama" from Weill's and Brecht's opera Rise and Fall of the City of Mahogany provide much of "Show me the Way." The non-sample-based songs run the gamut from synthesized keyboard beats, as in "Revolution Knows no Compromise," to the more organic-sounding piano-based loop of "Same Ones and Zeros."  
To sum it up, The Truth Campaign is nerdcore at its best.
Shawn Alexander Roy
[Rating: 4.5/5]