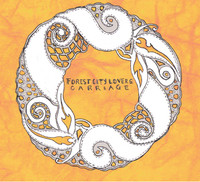 For the past five years, Kat Burns has been making the kind of music that makes lonely, dimly-lit bedrooms that much more inviting. Her subtle drawl constantly finds itself atop rippling waves of quiet, persistent indie folk. Then there are the motifs, full of the kind of brutal honesty you'd want in your bedroom too. All of this only stands to make Burns and her posse, Forest City Lovers, that much more engaging.
Carriage, their sophomore full-length, can be a rather daunting listen at times. It's not one to be taken lightly. Throughout the album, an unrelenting build culls with heightened anticipation. Carriage never sonically explodes, but that's probably only because Burns seems incapable of singing in anything louder than her indoor voice. But why ruin it? Burns is no Emily Haines, nor does she try to be. Instead, she's more of a Feist, singing atop the violin-laced mission that is "Minneapolis."
It's a mission set straight for the heart instead of the head, as so many of Forest City Lovers tunes are. "Oh The Wolves!" tries desperately to induce outright paranoia, but Burns' voice continues to exude the same warmth it does throughout Carriages, making it impossible to let this record get you down.
But still, there is a heightened sense of introspective discovery that litters the record. And this could only mean one thing: Carriage is a record meant to be heard alone. But make sure you keep your address book handy. You might need an open ear later, or perhaps your pals could also benefit from a spin of this one.
By Joshua Kloke
[Rating: 3.5/5]