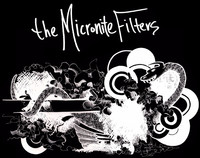 The Micronite Filters, yet another fine addition to Get Bent's intensely visceral lineup of blues-heavy rock and rollers, are not a band to be taken lately. From the opening crash and swell of "In Search Of Delights," its easy to get seduced by the band's no-nonsense attitude. Heavy, but never overbearing, The Micronite Filters manage to encapsulate all the horrors that come with living in a small town. And yet, they toss a certain amount of gusto onto the ragged ten tracks on Puff Go The Dragon's Mystic Fires that elevates them in a very natural manner.
For the rock and roll purists, it's all here for your listening pleasure on Puff Go The Dragon's Mystic Fires. Loose, rockabilly jams, ("Oh, Let's Get Drunk") the equivalent of a pure, untouched sonic landscape that pays homage to the mighty Zep in only the most honest of ways ("When The Giant Wakes") and of course, a greased up, dripping wet jam   whose title does the flow of the song (And the entire record for that matter) rather well. ("Sex Machine")
Now, so many bands these days attempt to pay homage to the classic rock they grew up with, but instead end up sounding like mere caricatures of those bands. Not so for The Micronite Filters. They have borrowed from legends, but they have not stolen. A powerful listen.
By Joshua Kloke
[Rating: 3.5/5]