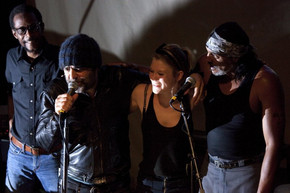 Black Dub, the enigmatically eclectic new quartet helmed by acclaimed guitarist and Grammy award-winning producer Daniel Lanois, hit the road this November in support of their self titled debut album. The tour will kick off November 15th in Boston at the Paradise Rock Club and finish up in Minneapolis on November 24th.
Stream "I Believe In You":
The tour launches in conjunction with the release of the band's self-titled JIVE debut, landing in stores on November 2, 2010. Black Dub combines tripped-out soul with flourishes of rock 'n' roll and Jamaican dub for a sound that's elegant and entrancing.