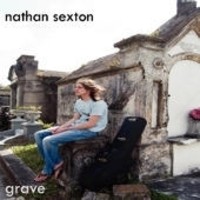 Nathan Sexton is a special kind of artist when it comes to songwriting and performing.   Sexton puts everything he has into each song as he hopes to connect with the audience on a highly personal level.   Nathan searches high and low on Grave as he digs deep to find out what we're all about.
What this 26-year-old singer/songwriter has figured out is that we're not so different after all.   We, as people, may experience the feeling of loss in our own ways but it's a part of life for everyone.   What Sexton has tapped into here is the idea that even though you may feel like you're at the end of your rope engulfed by darkness & sorrow, there is always a light at the end of the tunnel.   This young man from Atlanta captured this concept brilliantly on the new record as Nathan Sexton plays through a wide array of emotions & feelings.   The album is actually dedicated to his late cousin who tragically died in a car crash at age 26.  
Besides an emotional rollercoaster, you're also experiencing a thrill ride musically as well.   Sexton brings it all to life by mixing together pop, rock, alternative and folk.   This singer/songwriter wrote all the songs except one and solely produced the entire project.   Besides that, Sexton is also responsible for all instrumentation & vocals except on tracks 2, 4, 6, 7 and 11 where you will hear the cello, sax, banjo & mandolin.   There is such a fresh mix of songs here where you will get some cool pop/rock numbers and then maybe get a taste of some solid folk-oriented material.   Whatever the case may be, Sexton always guarantees satisfaction and complete relevance toward the listeners.   Throughout this entire recording, one can really sense the deepness of emotions within him.   Something else that you may pick up on about Sexton is that he is one dedicated man when it comes to his music.   I couldn't help but notice that Nathan played the hell out of the guitar with such style & finesse.   You are also feeling everything he is singing to you because he is an incredibly believable artist.   His words will speak to you without question!   I'd like to mention that there was a cover done of The Beatles' classic tune "All My Loving", which was a great version I must say.   Sexton really worked it out here and everything about this cover song felt right to me.  
In the end, I am very impressed with this musician from Atlanta because he provides real substance.   All of the material on this album was very well-done as Nathan made all the pieces fit together perfectly.   I can't wait to hear what Nathan Sexton will come up with next!   For more info on this artist and his debut release Grave, SKOPE out www.myspace.com/nathansextonmusic.  
By Jimmy Rae (jrae@skopemag.com)
[Rating: 4.5/5]