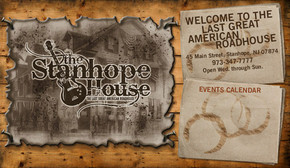 Stanhope, NJ will mark the rebirth of a legend, the Stanhope House is re-opening its doors and there is major anticipation around the revival of this storied hotspot. With a remarkable entertainment lineup of national acts and local favorites already in place and a partnership with Hot Rods BBQ, a renowned Wharton eatery, the Stanhope House is preparing for a return to its glory days.
If walls could talk, the old walls of the Stanhope House (c.1794), the last great American roadhouse, would have some serious stories to tell.
The club was the stomping grounds and post-show hangout for legions of music enthusiasts and famed blues greats.
Imagine the great Stevie Ray Vaughn scrubbing dishes in the kitchen after a jam packed gig. Picture Muddy Waters deep, grainy voice. trading chicken recipes with former club Matron, Mama Wrobleski or the original Hoochie Coochie Man, Willie Dixon stopping by for Thanksgiving dinner.
All of it happened at The Stanhope House, one of the last blues bastions left in America.
The former private home, stagecoach stop, general store, post office, tavern, rooming house (some say brothel) and hotel became well-known in the early 1970's for featuring a list of performers that reads like a who's who of Blues-Rock history. Paul Butterfield, Charlie Musselwhite, Dr. John,   Luther "Guitar Jr." Johnson,
Billy Branch, Lonnie Mack, Son Seals, The Fabulous Thunderbirds, Hubert Sumlin, Johnny Copeland, Richie Havens,   John Lee Hooker, Albert Collins, Albert King and Buddy Guy rocked the stage, most more than once.
In addition to amazing entertainment and a stocked bar boasting cocktails galore, the Stanhope House is proud to now offer customers the absolute best in BBQ.  
Owners of the famed Hot Rod's BBQ restaurant, Anthony and Tony Sibona have teamed up with the Stanhope House to create a menu that is every bit as down home and delicious as the music served up in this historic club.   Hot Rod's has something for everyone's taste but is famous for the most delectable, slow smoked pulled pork and BBQ babyback ribs prepared to strict specifications, using only top quality meats and of course some secret ingredients. The result is the most tender, tasty BBQ you'll ever eat.
Northern New Jersey will once again be able to boast that they are the home of a thriving, legendary nightclub featuring world class entertainment, scrumptious food and good times. The Stanhope House is back in business!
The Stanhope House
45 Main St
Stanhope, NJ 07874