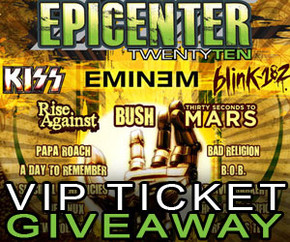 Skope Magazine has teamed up with the Epicenter Festival to give one lucky winner a chance to see Eminem, KISS, Blink 182, Bush, Rise Against and more live at this year's Epicenter 2010 Music Festival.
The two-day event will be held on Saturday, September 25th and Sunday, September 26 at Auto Speedway in Fontana, CA, just 35 minutes from downtown Los Angeles. The winner will receive a pair of weekend passes along with backstage passes.
Contest Page:
Skope will be selecting a winner on September 14th.