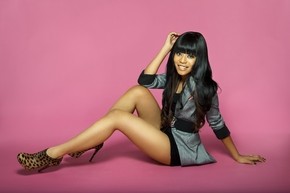 She is a 21 year old brand new signing to WBR, and is already making an impact at pop radio. Her first single "La La La" features another WBR/Reprise artist IYAZ, and has sold over 32,762 tracks just this week.
"That La La La Girl"
[youtube aJ85YuETzR4 nolink]
She is known as "The Princess of Beluga Heights", since she is the first female to be part of Beluga Heights — JR Rotems venture with WBR.   She is currently in the studio working on her debut release, and visiting radio stations everywhere…and will be in rehearsal prepping for the Jason Derulo Tour that starts at the end of September. She will be opening up for Jason!