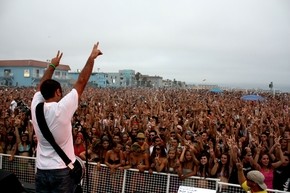 "Once again Rebelution on a lovin' quest"… this year's Rebelution summer of lovin' quest will take these living legends of reggae rock to just about every major festival in the United States.  
Stops include Bonnaroo, Lollapalooza [yes it still rocks huge in Chicago — only], Harmony Festival, Austin City Limits and more… as well as special shows with Blues Traveler at the famous Red Rocks Amphitheater in Colorado, Snoop Dogg in California, and all kinds of other shows in between.   Did I mention that they spent spring 2010 in France, Amsterdam, and a few other places around Europe??…Or their regular reggae rock trips to Hawaii and Guam??…   They bring that little piece of paradise with them to every show.
Formed in 2004 in the reggae Mecca of Santa Barbara, California…Rebelution quickly rose to prominence in the beachside party scene at the University of California in the city.   Sporting a massive mural of a sun with Bob Marley's face in it beaming off the outside of the second floor, The Marley House in the college village of Isla Vista next to the school is its center of reggae gravity…and Rebelution has rocked some all time classic shows there.   Several international tours and years later, Rebelution is still on the road and ready for more.   With the band dishing out steady reggae rhythms & deep dance beats from bass player Marley Williams, Rory Carey on keys, and Wesley Finley on drums; as well as the tantalizing lead guitar and absolutely epic vocals from Eric "Rock" Rachmany… Rebelution will be touring the world and recording music for many years to come.
Always out on a relentless year round tour schedule, it's a sure bet that Rebelution is coming to a venue near you sometime soon.   Thanks to the generous help of Eric Rachmany and some free passes, I had the chance to Skope a couple of recent Rebelution shows at the Arlington Theater in Santa Barbara with rising reggae rock stars Natural Incense and Rey Fresco; and at a beach festival in San Diego with members of Slightly Stoopid, Fishbone, and more…. Skope out an album of pics taken from these and other Rebelution shows by Dave Norris, Jennifer Ridihalgh, and me:
When Rebelution released their first full length album Courage to Grow, most of us who have been following them since before they released their EP expected great things.   Three years later Courage to Grow is still in the top ten most downloaded albums on iTunes, and is now joined by the band's second full length album Bright Side of Life on the same chart.   That's not in the reggae category, that's overall.   That's how good they are.       This is not some fad folks.   The beats, the flows, and the buds are bomb enough to bump with Snoop; the rock is just right to roll with Blues Traveler; and there are beautiful women at every show.   What more do you need to know?   It's rather refreshing to hear such incredible music you can dance to or bump loud in a car stereo, with positive peaceful messages, and female friendly everything.   From their title tracks, to NightCrawler, Green to Black, Bump, Heart Like a Lion, Lazy Afternoon, Running, to the all time greats Feelin' Alright, Attention Span, and Safe & Sound …there are so many amazing Rebelution songs I could keep going for a while…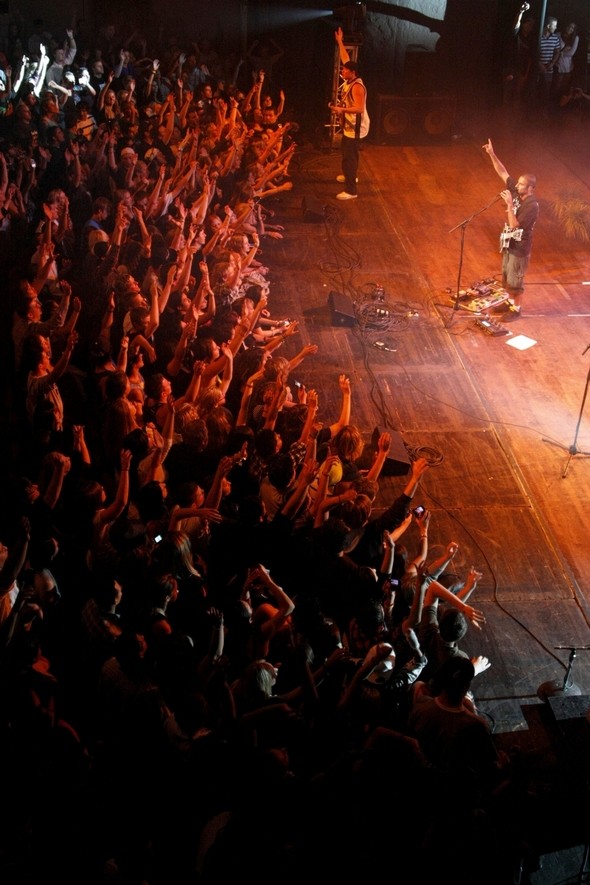 Under the expert guidance of indie industry gold standard Silverback Music, which has worked with giants like Sublime, Slightly Stoopid, Fishbone, The Expendables, and more…Rebelution has its own record label – 87 Music – and a foundation built to last.   The world is and will be a better place for it…
By the way, the band also has a habit of giving away free music.   You can download the title track to their latest album Bright Side of Life FREE as well as a special remix of So High [my personal favorite] FREE, and a FREE EP of Rebelution remixes done by such musical luminaries as Yeti Beats featuring reggae legend Junior Reid, other songs by Zion I, and more… just click their myspace link and start scrollin', you'll Skope all the free stuff on your way down.   Have fun. Peace…
www.myspace.com/Rebelution
www.RebelutionMusic.com
www.facebook.com/Rebelution
www.twitter.com/RebelutionMusic
Article by: Gary Jacobs –  dbsproductions@gmail.com