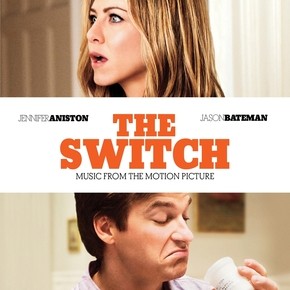 The Switch, due in theaters August 20, stars Jennifer Aniston and Jason Bateman in an offbeat comedy about Kassie (Aniston), whose plans to have a baby all by herself go awry due to a last-minute switch that's discovered seven years later when her slightly neurotic best friend Wally (Bateman) finally gets acquainted with her "precocious"though slightly neurotic" son.
The Switch: Music From The Motion Picture, a 15-song collection including 2 score compositions by Alex Wurman arrives right on time on August 17. The soundtrack features a quirky mix of music ranging from Dan Hartman's disco smash "Instant Replay" and Mojave 3's dreamy
"Bluebird Of Happiness" to The Quantic Soul Orchestra's funky "Pushin' On" and Jaymay's folksy "Sea Green, See Blue." Also includes music by the Eels, Lavender Diamond, Jamiroquai and The Bar-Kays.
We have a sampler of the soundtrack available as a streaming listening party here:
QT
WMA
Sampler playlist:
I Can't Wait – NuShooz
The Bomb – Sunrider
Here Comes The Sun – Fat Larry's Band
Pushin' On – The Quantic Soul Orchestra
Open Your Heart – Lavendar Diamond
All the Beautiful Things – Eels
Lover's Carvings – Bibio
Lice (Score) – Alex Wurman