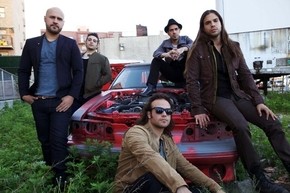 Miami- based rock band Atom Smash announces summer tour dates in support of their forthcoming Jive Records debut album Love Is The Missle. Atom Smash will rock fans across the country with stops that include Dallas, Houston and Little Rock and will join Filter, Buckcherry, Cavo, 12 Stones, RED, Shaman's Harvest, and Black Sunshine on tour.
"Do Her Wrong" is the first single from Love Is In The Missile and is now available at iTunes. The album is slated for release on August 31st:
Atom Smash is comprised of Sergio Sanchez (lead vocals), Arnold Nese (bass), Mark Annino (drums) and guitarists Alex "Z" Zilinski's and Luke "Cowboy" Rice.   Formed in a fairly unconventional manner Atom Smash originated when frontman Sanchez discovered Zelinski, who lived in Austria at the time, via an online classified in 2006.   The band's lineup solidified in late 2008 when Nese and Annino joined the fold permanently and in the spring of 2010 the final piece was the addition of Rice.