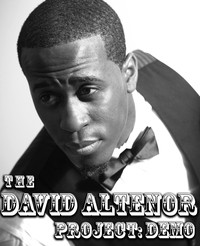 The expression I swear to God comes to mind because David Altenor is doing just that in every sense of the word.   This four-track demo is a true testament to Altenor's strong faith to make music for the lord.   But don't assume that this is your typical Christian or Gospel record because if you did you're completely off.   The David Altenor Project is full of fresh, cool & hip sounds that every person can appreciate.   David is proving to everyone that just because you make an album dedicated to Jesus doesn't mean you have to stick to a certain style or genre.   No classifications are needed when you're making songs about God because just like anyone I'm sure he also gets bored with the same-old, same old.   That is why David Altenor has taken it upon himself to come up with catchy, fun and original tunes for the almighty one.
Altenor has been involved in music ministry for over half of his life.   As a singer & keyboard player, David has played for and directed choirs all over the Boston area.   He even played in one of Boston's top up and coming bands touring the entire east coast at one point.   Even with the sudden success of being in a band, Altenor's heart wasn't in it all the way and he felt that something was missing.   His true purpose in life was not being met and with personal obstacles hitting him hard, David Altenor finally realized what he was meant to do.   He decided finally that he was supposed to play for one team and one team only–the 1 of God that has the best record of all time.  
In light of his crucial decision, David Altenor now has a mix of songs for the whole world to enjoy.   On the new disc, David is responsible for writing all four tracks, singing lead and back-up on all of the songs, playing piano/keyboard as well as producing & arranging the entire work.   This talented young artist has come full circle to make a difference in not just his own life but for the lives of many others.   The CD offers up some very cool styles that include: rap/hip-hop, R&B and pop.   The opening number, "Song For You" is sung from David's mouth to God's ears as he rejoices in what he calls the "kingdom sound".   Next up, "It Was You (Dedicated to Lou Diamonds)", supplies the listener with inspiring lyrics and a powerful message that will make you think about life in general.   On track three, "Just Like Me (Featuring Harold Hinds)", you're hearing an incredibly nice touch on the keys while David is vocally on top of the world.   He is reaching to ALL by asking the simple question, which is "Is there anyone that feels like me?"   The Boston native ends the record with a song titled "Remember" where he's telling people not to forget where they came from and where they got everything from.   The track will definitely get you to remember what's important and it will also help keep you in check & grounded.  
The sound is hot and the beats are nice but David's not performing club hooks; he's singing his praises for the hook of heaven.   David Altenor is proving to the whole world that we are not alone on this mission or test that we call life.   For more on this multi-talented music artist, SKOPE out www.davidisoffkey.com.  
By Jimmy Rae (jrae@skopemag.com)
[Rating: 4/5]