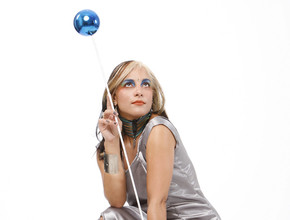 A very happy Friday to all Skope readers! I could not have picked a better guest to kick off the weekend than Aradia. Aradia is a Seattle based musician and an overall entertainer and she has a vocal ability that floored me. I caught wind of Aradia after giving a listen to her album 'The Oddyssey.' Aradia has got the ear & talent to make a hit record and she has the courage to express herself as herself. Join us as we talk about Seattle, Prince, going solo, and much more!
Stoli: Where are we talking from today and how is your summer going?
Aradia: We're talking from my house in gorgeous, warm Seattle. The summer is absolutely fabulous, now that it's finally started!
 
Stoli: You have an incredible voice. At what age did you realize your talent and pursue music full time?
Aradia: Wow, thank you! My father is a singer, and my older sister sings beautifully. In our household, it was just normal and natural to be able to sing — I didn't recognize it as something "special" or out of the ordinary in any sense at first. Throughout high school I received enough encouragement from friends and family to pursue it as a career.
 
Stoli: How did you get the name Aradia and what does that mean to you?
Aradia: "Aradia" is actually a name my parents gave me. It's the name of the Goddess Diana's daughter.
 
Stoli: You are now based in Seattle. What drew you to that wonderful city and how is the music scene around town?
Aradia: Seattle is pretty amazing. I was drawn here by all the trees & parks, the mountains & lakes, and the culture. I feel like I'm in a little bubble where everyone takes care of their environment and watches what they eat (well, ok not everyone, but definitely more than other places I've lived!).
The music scene is…in transition here I'd say. A lot of really great bands come through Seattle when they're touring, so people here get exposed to the best of the best — and certainly the most variety. When it comes to local independent music, we get to hear some seriously high-caliber musicians; but I wouldn't say there's a coherent "scene" going on here right now. I think it's just the time in between the last scene and the next big thing, though.
Aradia "Supernova" MP3:
Stoli: You are a solo artist but work with other musicians. What are the advantages to going the solo route and who are other musicians that you respect and work with?
Aradia: Well, I suppose the biggest advantage of going solo is that I don't have to worry about keeping everyone happy. Having a band is like being part of a family, and I always want the members of my family or a band to be satisfied with what they're doing. I also like being able to just get in the studio and lay down 40 tracks for one song if I get inspired to do so. For 'The Oddyssey,' I had a great experience recording with members of my previous band in Atlanta. Today I enlist the help of other Seattle-based musician friends like James Drage.
 
Stoli: Prince recently came out and said the Internet is dead. Do you agree with that or he just out of touch with reality?
Aradia: I've always regarded Prince as a genius, musically. I don't agree, though, with his statements about the Internet being dead or all "gadgets" being "no good."   I can understand that selling music digitally has fewer benefits for established artists, but for independent artists who don't have distribution deals it's a real gift.
 
Stoli: How long were you working on your album, 'The Oddyssey' and what does this album mean to you personally?
Aradia: 'The Oddyssey' took about two years to complete, though it only took a little over a month to record initially. I went back and did a few different iterations of some of the songs before I was happy with it. For me this album signifies the realization of a dream — to not only complete an album but get it out there so people can hear and enjoy it. The songs themselves are largely about finding the balance between the world inside my head and some of the harsh realities we all face every day.
 
Stoli: I really like your sense of style and wardrobe. Are you into fashion or do you just go with what feels and looks good?
Aradia: Ha, thank you. I laugh because I'm always thrilled when people think I'm fashionable. I started out as someone who "didn't know how to dress." I had a…strange sense of style and was lucky enough to have a mom & dad who got a kick out of it and never discouraged me. I learned how to sew from my mom so I make most of what you see me wearing.   I definitely just go with what feels right at that moment and represents how I'm feeling at the time.
 
Stoli: I love the song, "Trinity." What is that song about and when did you write that song?
Aradia: Thank you! So glad you dig it. I wrote that song a few years back when I was in a challenging relationship. The name "Trinity" is a reference to Neo & Trinity from The Matrix. I kind of feel like every couple should be like them — they're intensely in love and they 'got each other's back,' so to speak.
 
Stoli: If I was to get my hands on your MP3 player, what musicians would I find you are listening to and respect these days?
Aradia: Oh man, I have two of them because I listen to such a ridiculous variety of music! Let's see…you'd find some Carlos Joabim & Astrud Gilberto, Damian Marley, Motion City Soundtrack, OK Go, Pink Martini, Phoenix, Bill Withers, and of course Devo!
 
Stoli: You are an inspiration that artists can prosper independently. What advice or words of wisdom can you offer other aspiring female musicians?
Aradia: Again, thank you. My advice would be to be very selective about what and whom you listen to when it comes to receiving guidance. We all need to be realistic, yes, but there is an abundance of naysayers around us at any given time. Just keep going. Be smart about it. Do your research and learn about the tools available to you — being an independent artist is like having your own business — but keep the focus on the self-expression that turns into your art.
 
Stoli: What is coming up for Aradia and where can we follow you online?
Aradia: I'm really excited to be working on my second album right now. My goal is to release it early in 2011. You can follow me on Facebook, MySpace, and my official website. You can also check out my first music video on youtube. Thanks, Stoli!
www.facebook.com/pages/Aradia/8534718340
www.myspace.com/aradiasmusic
www.aradiasmusic.com
www.youtube.com/watch?v=yz2RdD2no_8