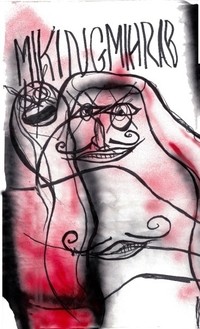 With a band name like Mikingmihrab, you already know right out of the gates that this group and this album will be very different.   How different though is the real question; well that will be up for you to decide?   I would call this new record adrenaline-rushed insanity on wax that is ridiculously original by all measures.   The uniqueness factor is not being hidden in any way here by Mikingmihrab as they go extreme and dare to go against standards.  
The trio is made up of: lead singer/guitarist–Mike Adams, Kevin Cooper on bass and Zach Price on drums.   These three musicians hail from the city of brotherly love, Philadelphia, and their band came from the unlikeliest of places–the dictionary.   That's right; Adams had the word book opened one day and spotted miking and mihrab on two consecutive pages just sitting there.   Mike liked the way the two words sounded together, so the rest was history!   The actual definition of miking is to supply with a microphone and a mihrab pertains to a niche or chamber in a mosque indicating the direction of Mecca.   So…did this unusual name calling happen completely by chance for the Tres Amigos from Philly or perhaps was it fate…you make the call.   The members of Mikingmihrab might not even be able to answer that question themselves…who knows.
The title of the album is actually a spin off of the classic ZZ Top record Tres Hombres.   Tres Tontos is the follow up to their 2008 debut EP Breaking News and the boys from PA are ready to blow the roof off with this exciting & new, full-length release.   What I loved here is how BIG and LOUD the band is playing on the whole.   You are getting fast-paced, high energy music at full throttle that hits hard 'n' heavy.   With cool guitar licks, pounding drumming, solid bass lines and singing that sounds like nothing else out there, you can't go wrong.  
Mikingmihrab incorporate punk rock and folk in what turns out to be a very interesting yet highly effective listen.   I was really diggin' the rawness of sound here that is not sugarcoated with fancy studio magic at all.   What you hear is what you get and what you get is an underground indie rock band with the garage appeal in full effect.   To further enhance this notion of an unconventional style of music, the three lads decide to end the record with a tinge of country heard on the track "Death is the Prophet I Seek".  
In the end, I really love this group's energy and the awesome sound they have created.   Sometimes bands go too far off the map by making music that just doesn't make any sense, but Mikingmihrab pull everything off nicely and make it work.   I highly recommend taking a listen to this stripped down indie punk-folk rock band because they are sure to satisfy your senses.   I have a feeling this trio from Philly will not be underground for long.   For more on Mikingmihrab and their new release, Tres Tontos, SKOPE out www.mikingmihrab.com.  
By Jimmy Rae (jrae@skopemag.com)
[Rating: 4/5]