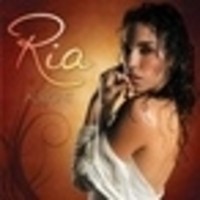 Don't foget these three letters RIA because they will absolutely stick in your head after experiencing this debut album.   The Miami sensation born in Columbia calls herself Ria and fittingly enough she named the record the same.   The audience is receiving a large dose of nothing but Ria here and the talented singer/songwriter is making sure of that.
An impressing stat worth mentioning would be when Ria opened for Melissa Etheridge at Matthews Arena in Boston, Etheridge had said to her after the show that "You rocked my world!"   It all adds up since Ria graduated from the highly-acclaimed Berklee College of Music with a doctorate.   What doesn't make sense though is why this glowing young woman isn't BIG already.   This new CD does not sound like a rookie release by any means; quite the opposite actually.   The 12-track recording is polished with that fine-tuned professional touch heard loud & clear.   From what I heard throughout this album, in my eyes Ria is already a seasoned vet in the studio.   It's only a matter of a time before this artist is all over your TV and radio stations.  
The style of music heard here is extremely fresh 'n' hip without any question.   You will hear everything from pop, R&B/soul and even hip-hop mixed in with Latin and world rhythms.   In the end, this is a dance/pop record all the way due to infectious dance beats evident throughout the set.   Ria's songs will make you want to get up and move your body and these hip-shakers would be a perfect fit for any Pop/Dance club out there.  
I couldn't help but notice how good of singer Ria is with her nice 'n' tender touch.   She has such a good voice that really works here stylistically.   For this particular type/genre of music, Ria really nailed it from a vocal standpoint.   Ria's vocals are sensual at times and even a bit sexual like on track six, "Into Me", where the artist literally builds up to an orgasmic finish.   The musician is also able to connect with the listeners on a higher, emotional level because of her soul-satisfying vocal performance.   Her words will speak to your hearts & minds like on the song "I Hate You" or on the feel-good number about a mother's cherished love titled "Momma's Love".   As you hear Ria for yourself, you will really feel her music & lyrics.   The singer/songwriter decides to end on a low-key note with "Still" but still keeps it oh so powerful with her distinct delivery.
Ria has got it goin' on and whether you wanna 'bust a move' or just sit back, think and take it all in; this soon-to-be diva has got you covered.   One thing is for certain and that is you will be guaranteed a good time while listening to this record.   Ria and her music are on fire here with sizzling dance beats and vocals & lyrics that are filled with pure emotion.   All I have to say now is that it is all simply HOT!!!   For more on this rising artist with star potential and her brand new release, Ria, SKOPE out www.riamusiconline.com.  
By Jimmy Rae (jrae@skopemag.com)
[Rating: 4.5/5]