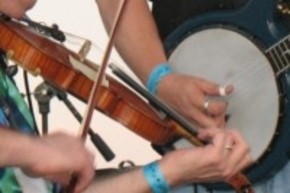 Well, howdy, folks. I'm back from a much needed break while renovations continue here at the clue. I did a little traveling, ate some good food, saw some folks I hadn't seen in years, and took some great nature photos for my new book trailers coming out this month and next. While I was exploring my roots, I thought it would be great to introduce you to some new twists to roots, folk, and bluegrass here at the club this month. I really had way too much to choose from but thought I'd show you some artists you probably haven't heard before.
But before we go much further, I'd like to point readers to Brent Burns' new video.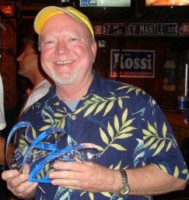 If you haven't seen this, you should. A few years ago, Gulf Shores AL singer-songwriter did a video for his song, "Pain at the Pump," that really took a hammer to the oil industry. His latest "If You Drill Drill Drill, Don't Spill, Spill, Spill" is worth the few minutes watching. Using humor, he points the finger to BP (literally), showing what is really happening out there. Go to Brent's website   http://www.brentburns.com to check out the video.
In the Studio, I've reviewed the country trio Trailer Choir, the roots artists Syd Selvidge and Michael Hurley, and bands Band of Heathens, The Bridge, and Professor Louis and the Crow Matix.  
And it keeps coming in the SonicBids Lounge where I assembled a variety of musicians who are using this medium in very unique ways. They include folk and acoustic artists from all over the US. And featured on the SonicBids Lounge stage is a band from Washington state that's mixing genres with ease, a jazz/bluegrass group from Tennessee,   and a popular Canadian country band.
In Studio
Trailer Choir
Off the Hillbilly Hook
Show Dog Nashville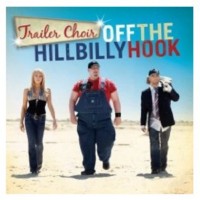 This country trio has been hitting state fairs throughout the Midwest for the past few years. In fact, they're playing at Moondance Jammin' Country Fest this month. They have a contemporary Nashville sound with an irreverent twist. When I put the six-song CD, Off the Hillbilly Hook, into my player, I wasn't sure if what I heard was serious or not. It's clear that "In My Next 5 Beers" is a satirical look at life goals and planning. But it I know folks like that. Their popular "Rockin' the Beer Gut" could be satire or it could be a refreshing look at a plus-size diva who is content with herself and is the gleam in the songwriter's eye.  
"Rolling Through the Sunshine" is clearly a fun song about running away from the bills and troubles and finding pleasure with the one you love on a beach somewhere. We all dream of that.
"What Would You Say," though, is a serious song about how we are living our lives. Is it honorably and with no regrets? It's something we all need to think about from time to time.
Following that song is "Last Man Standing," a powerful song about believing in yourself. It's a powerful anthem.
The last song, "Off the Hillbilly Hook," is a rocking, bluesy, country tune about what it means to be country. It's punctuated with talking blues—not rap, folks. It's older.
The Trailer Choir has toured with Toby Keith and recorded this CD on his Show Dog label in Nashville. The trio consists of Butter, Big Vinny, and Crystal. Butter, from Ashtabula, Ohio, gave up baseball to pursue songwriting in Nashville. He met Big Vinny, who's from Linden, Tennessee, in Music City and they starting writing and performing. At one gig, Crystal (from Cheneyville, Louisiana), who was also in Nashville trying to write, took over a mic and added a female harmony. The Trailer Choir had finally gelled.
Butter who plays guitar is the only one of the trio who plays an instrument on stage. For this album and their gigs, they use a full band.  
Off the Hillbilly Hook is a great introduction to what this talented trio can produce.
Sid Selvidge
I Should Be Blue
Archer Records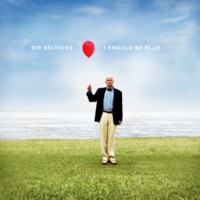 I was most pleased to be introduced to Sid Selvidge in his new CD I Should Be Blue. The 12 songs are delightful renderings of songs by Townes Van Zandt, Tim Hardin, Tom T. Hall, Donovan, Amy Speace, Fred Neil, and even Duke Ellington. Selvidge does offer three originals on the disc. But it is his tender vocals and acoustic guitar noodling that is the keystone of this album.
Selvidge's selection of both well known and obscure material shows his depth. His dressed up version of Donovan's "Catch the Wind" makes the song fresh for those who grew up on these Donovan's chestnuts, while presenting it dewy for a new audience.
But it's his "Dimestore Angel" that impressed me. It places Selvidge's earthy voice with against Amy Speace's tasty vocals and throws in Paul "Snowflake" Taylor on washtub bass. It's an organic moment.
His "Lucky That Way" is another roots blues number where Selvidge plays a tasty electric jazz guitar. Snowflake Taylor plays drums on this one and Sam Shoup adds a fine assist on bass and piano. This number is absolutely perfect.
Though Selvidge's "Fine Hotel" is well-executed and shows his versatility, it has a pop sound that I find less appealing as some of the other cuts on the album.
Another bright spot is "A Blond Headed Girl," written by Sam Weedman that takes on an island feel with a little funk through in with Al Gamble's organ. It's a light-hearted look at the power of attraction.
Newcomer Amy Speace's vocals are a nice touch throughout. She also assists on "Catch the Wind," Townes Van Zandt's "I'll Be Here in the Morning," Fred Neil's "The Dolphins," and her own penned tune "Two." Her original song is an exquisite track on the album, particularly because of her vocals against Selvidge's.  
The traditional "Your Gonna Look Like a Monkey" with its irresistible gospel beat had me laughing because of the different voices Selvidge uses on the track. Nicely done.
And the last track, the Duke Ellington/Bob Russell tune, "Do Nothing Till You Hear from Me," is an elegant number. Using only Selvidge's electric guitar, Shoup's upright bass, and Taylor's brushed drums. Sweet.
The richness of Selvidge's vocal delivery had me checking several times to see whether he was African-American or not. He isn't. But it is a tribute to his honest, from-the-gut delivery. Though his voice isn't loud and overly powerful, it is real and grabbed me in the places that it should. He is able to soar into high tenor realms and glide down with ease into sultry street-worn tones.
I Should Be Blue is a wonderful collection of tunes from Sid Selvidge that showcases his diverse vocal range and his comfort in a number of instrumental styles. He and Amy Speace are mounting a joint tour across the US starting this month in support of this fine album.   For more information on the album, U.S. tour dates, and more, please visit www.archer-records.com or www.sidselvidge.com.
Band of Heathens
One Foot in the Ether
BOH records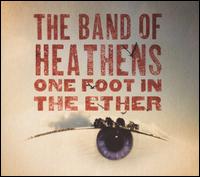 Hailing from Texas, Band of Heathens formed three years ago and has been winning fans every place they play. That loyal fan base helped propel them to the Austin City Limits   and Mountain Stage. So, I was naturally curious to see what was in this new album, One Foot in the Ether, the fourth out by this band.
Though the first two cuts, "LA Country Blues" and "Say," are great numbers, it was their third track, "Shine a Light," that perked my ears up. It's a tasty, jug-band meets country gospel number that just nails the idiom. The harmonies are killer, and the gut-bucket drumming and the church organ had me shouting!  
If a band can get me with their gospel tunes, I'm hooked. But Band of Heathens just kept pulling me in more and more. "Golden Calf" is a bluesy gris-gris number that would make Dr. John envious. Its drowning chorus is infectious and will have you zombie-walking to the nearest dance floor.
The funky blues of "You're Gonna Miss Me When I'm Gone" starts out slow and thoughtful and ends up with a juke-joint camp meeting. Then Band of Heathens trips into the country rock of "Let Your Heart Not Be Troubled" that also has a dose of gospel. It's a deadly combination.
Others follow that preach a social gospel as well as an urge to find peace within. "What's This World" looks at our need for change but our unwillingness to change now, especially when it doesn't directly affect us. It's a hard commentary but a needed one.
"Talking Out Loud" is a charge to take a stand while not alienating anybody, and the final tune, "Hey Rider," with its repeated chorus is a call for peace.
But these aren't just musical gimmicks. Band of Heathens offers up a platter of songs with merit and not just professionally produced and performed. The band is writing social commentary that asks deep questions about life and living that affect the spirit. The writing team of Ed Jurdi, Gordy Quist, and Colin Brooks was a merger made in songwriter heaven.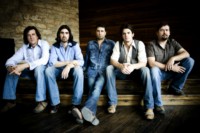 "Somebody Tell the Truth," a Jurdi, Quist, and Brooks collaboration with Joe Lee King, hits hard, but it's a very danceable tune. It has the feel of some of the new work coming out of Minneapolis' GB Leighton, a talented songwriter with a killer band who knows how to win and keep an audience. That's something that Band of Heathens has certainly learned.
These boys also play a pickup truck full of instruments. Ed Jordi and Gordy Quist play guitars, piano, and Lowery organ. Jordi, though, also plays banjo and Wurlitzer piano while Colin Brooks plays guitars, dobro, lap steel, mandolin, and slide piano. They are assisted by Seth Whitney on bass and John Chipman on drums and percussion. For the album, Trevor Nealon adds piano, Hammond organ, and Wurlitzer piano.
The only cover on the album is "Look at Miss Ohio," who "wants to do right, but not right now," a gem written by Gillian Welch and David Rawlings. It's an interesting commentary on youth and done up well by Band of Heathens.
Each song is as tightly constructed as the three-part harmony Jordi, Quist, and Brooks deliver. Nothing is overdone. There is just the right amount of musical spice.   So, check out One Foot in the Ether or one of Band of Heathens' other CD. For more information, go to: http://www.bandofheathens.com
SonicBids Lounge
If those CDs didn't whet your appetite for some live music, come on in to the SonicBids Lounge and let me introduce you to some really talented players. So, grab something cold to drink from the bar. And don't mind Snake. He's just pouting because I left him for a month to go off traveling with my husband. I promise I'll do inventory with you later in the liquor locker.
While we're here at the bar, let me introduce you folks to instrumentalist Willie Ames from Ashland, Oregon.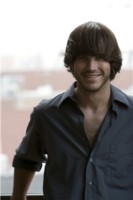 Practically born with a guitar in his hands (he started playing at five years old), Willie began to deconstruct traditional music and rock and roll and their main instruments, guitar and banjo, during high school, using his instrument in more of a jazz improvisational way and creating his own unique playing style. He left college to tour the US as an independent artist, having played in all fifty states. Though he also writes songs with lyrics and performs them, his real strength is his original instrumentals. He is currently offering a self-title CD of his best songs to audiences.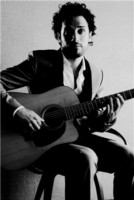 Over at this big table is singer/songwriter Tam Lin (also known as Paul Weinfield) from Brooklyn, who began playing guitar and writing when he was nine years old.
Though he records all of the instruments in the studio himself, he tours with a four core musicians. They're joining him tonight–Mike Shobe on trumpet, Ryan Mackstaller on guitar, Jason Binnick on bass, and Mark Boquist on drums. Tam Lin has three albums out: Floating World (2006), In the Twilight (2008), and Begin Again (2009). But these recordings only capture a fraction of Tam Lin's ability to craft a song with some meat in it. His liquid voice is the perfect medium to communicate these songs that are supported well instrumentally. Though Tam Lin tours the New York City and Pennsylvania area, we can hope he'll bring his music to audiences throughout the US.
http://www.tamlinmusic.com
http://www.sonicbids.com/tamlinmusic
Come along to the next table. You have to meet Linq from Royalston, Massachusetts.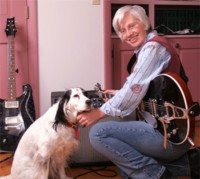 The 21 st century's female Dylan, Linq is writing songs about social and environmental issues while offering up dance tunes and anthems that you'll be singing long after her concert is over. Though Linq spent half of her life as a pharmacist operating her own business, she sold it at 55 and went on the road touring in support of her first single. A year later, she offered audiences an album, Journey (2004).   Fast Moving Dream followed in 2006 and Change the Picture, George! (2-song enhanced CD) in 2007. Then she released two albums last year: Life Goes On and Rx and the Side Effects. Her "Prescription Chaos" takes on the drug industry and she's not afraid to hit them where it hurts. And "Diversity Dance" is a lively inclusive song as is "Change the Picture." Linq, we're honored to have you in the house. If you need anything, just go pinch Snake's butt–or mine–and we'll get it for your.
Joining Linq is Andy Miller, a roots musician who combines a wide range of acoustic genres in what he calls Junkyard Jazz.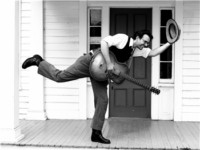 Leaning to play guitar at six from old country tunes, he dipped into punk, fronting the Washington state punk band The Nitwits, as a teenager, and eventually played in a number of jazz and roots bands when he was in his late teens while he studied jazz. He even played as country and bluegrass as Cowboy Sunset. Moving to Oregon in 2009, Andy founded The Red Dakota Revival Show, and then cross the country again to NYC where he's combining a lot of the experiences he had with these bands into his solo act, where he sings and plays guitar and harmonica. His music is a unique sausage, ground of the best cuts of these styles and packaged in a raw roots format.   Andy has two discs out: We Think You Think Too Much About Thinking–Red Dakota Revival Show (2009) and Photographs of the Sun LP (2009).
Also sharing the table is environmental singer/songwriter J.P. Taylor from Florida.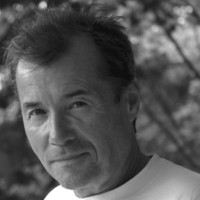 He's got a great single, "Interdependence Day," that's really timely at the moment as we watch what's happening in the Gulf. J.P.'s three LPs–Singin' for the Earth, The Eyes of the World, and The Last Frontier–might be worth checking out and passing around to your friends. A teacher, J.P. has been creating educational recordings for a decade, using music to learn about science. His current mission is to uplift the issues of climate change, conservation, and endangered species protection, bringing them to a global all ages audience.
http://www.jp-taylor.com
 
Now, let's hurry on to the next couple of tables. Here is the band The Historic from
Mount Joy, Pennsylvania.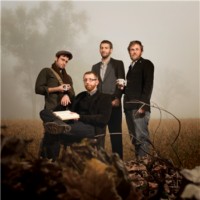 This four-piece is more rocking than a lot of rootsy-folkie bands though they do incorporate some folk traditions in vocal backup by Tim Spiegel who also plays guitar. Lead vocals are done by guitarist Phil Rohrer who delivers a mixed vocal sound of pop/rock to one that is very road-lived and roots-driven. The instrumental support of Ryan Bracken on bass and Josh Loose on drums is solid, underlining the thoughtful songs about living that influence spirit and community. Guys, I was really moved and impressed by "Dymaxion." It's a really great update to a traditional sound. Very nice.   The Historic has one EP, Addressing a Mighty Wind, that came out last year. You've got to listen to their stuff. Sometimes it's very organic and at other times it's edgy and punk.
Now, let's walk this way to booth over here. This is Ironwood Rain from Broomfield, Colorado.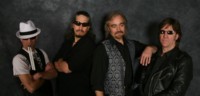 Offering vocals, often in three-part harmony, Ironwood Rain writes songs about common people with uncommon loves and lives. The four-piece band offers mostly an acoustic guitar sound, though Scotte Burns provides bass and Gary Saint Germaine, drums/percussion upon which the guitar work rests. Scotte, Mike Kloepfer (guitars), and JJ Maestas (guitars, harmonica, and mandolin) lay down the sweet vocals. Ironwood Rain has a debut CD, Trio, that is being well received. They're currently writing material for a new EP that is supposed to be out this year.
Go refresh your drinks and grab some good seats up front. We've got three great acts on our SonicBids Lounge stage. Warming up the stage is Buffalo Death Beam, a seven-piece band from Pullman, Washington.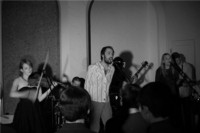 Sometimes having that many people on stage is not just a logistics problem. It can create a chaotic sound. But Buffalo Death Beam has selected every person carefully so that each talent enhances the whole. The haunting vocals by Curt Krause (guitar), Sean Knox (guitar, banjo, organ), and Tiffany Harms (accordion and bassoon) are exquisite though sometimes uncomfortable because of the deep emotions they evoke. These voices are supported by seasoned musicians who add color to the work. Caitlin Dooley's violin lifts high over the songs while Mike Marshall's mandolin tickles the ear underneath, and Joe Oppegaard's bass and Chris Kiahtipes' percussion provide the solid foundation for each song. Surprisingly, this band only formed last year. To the ear, they sound as if they've been together for decades. They have one self-titled EP that was released late last year.
Writing in a mix of old-time, jazzy pop, and ethereal rock, they treat each genre with respect while bending it into their own vision, adding other musical influences. Locals have been treated to the talents of Buffalo Death Beam, but it's time for this band to hit cities and festivals all over the US. You'll have to come back to the SonicBids Lounge again. We love you!
Following them is the Matt Flinner Trio from Tennessee.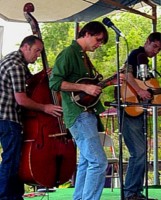 They've been touring like madmen since 2002. They offer more than your grandmother's bluegrass but a decidedly sophisticated twist to the whole 'grass movement. Sometimes called chamber grass, the music that the Matt Flinner Trio creates combines jazz and classical edges to a traditional medium. Like jazz banjoist Alison Brown, they are using acoustic instruments in bright new ways, opening up musical possibilities for a more discerning audience. Mandolin virtuoso Matt Flinner is joined by innovative bassist Eric Thorin, and versatile guitarist Ross Martin. The trio has one CD, Music du Jour, released last year on Compass Records, which not surprisingly is Alison Brown's label. Matt Flinner himself has five CDs on Compass, recording with them since 1998. The Matt Flinner Trio offers intellectual music with a most refreshing twist.
Our headliner is Vannatta, a five piece country band from Milo, Alberta.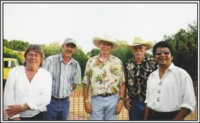 We're lucky to get them into our virtual lounge here because these guys are booked solid all over Alberta and have been since they started in seven years ago. Their repertoire is packed with originals by their frontman Larry Vannatta who also plays guitars, harmonicas, and mandolin as well as handles lead vocal duties. The band does a mix of Texas swing, roadhouse tunes, Nashville sounds, and what I call pure Canadian country. Vanantta has played with the best, including Canada's country icon Ian Tyson and our own Waylon Jennings and Marty Stuart. These guys have three albums and eight single releases with Hillcrest music, and two Juno nominations for Country Group of the year. And it's no wonder! The songs are solid and well sung with great backups by bass man Bud Maynard, guitarist Johnny Fraser, and drummer George Davidson. They are assisted by Blaine Evans who also plays mandolin and guitars. They'll be playing cuts from their 2009 CD Redneck Thouroghbred.
Well, that's all we have for this month. Catch us next month when we dip into pop.
Wriiten By: Janie Franz — jfranz@skopemag.com