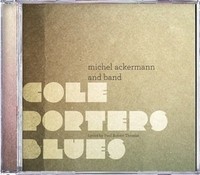 Berlin-based singer/songwriter/pianist is back with his first full-length album release of Cole Porter's Blues.   Coming off his 2009 EP, Kite, Ackermann decides to delve deeper into his musical & artistic side.   Kite was piano-driven music that included elements of jazz, pop & classical to go along with a peaceful/tranquil setting.   The title of "Power Pop" was inventively coined for all the songs on the four-track EP.       Michel kept the jazzy sensations and relaxing atmosphere but now the emphasis is not so much on the piano but rather on Michel's vocal style & lyrics and just the music itself.  
The Berlin musician had some help vocally from London/Tel Aviv-based lyricist Paul Robert Thomas.   Unlike the previous recording, Cole Porter's Blues displays Michel Ackermann in a new light.   I had stated in a review of Kite that Ackermann's voice just didn't seem to match up with the overall sound due to his thick German accent perhaps.   I stand corrected as I speak to you now because this album has Michel singing in a convincingly confident fashion.   I am no longer "scratching my head" when I hear Ackermann's vocals because now everything just sounds right.   Whatever it is; IT works and Michel & Thomas worked IT out tremendously!   All 12 installments on this project speak for themselves.
Right away when the record spins, you pick up on a Dave Matthews vibe that hangs on tightly throughout all the tracks.   Michel sings in a 'smoky' kind of way, in which his voice & delivery display a mysterious charm.   Just as the Great Smoky Mountains have a certain mystique & wonder, Michel too also exhibits an alluring sense of mystery.   And just like a classic jazz club would have been filled with smoke, Michel Ackermann NOW saturates the room with new & fresh jazzy, upbeat numbers.  
One can also experience a calming effect throughout Cole Porter's Blues thanks in part to the way Michel expresses himself both vocally & musically.   Lyrically & emotionally, Ackermann has reached a deeper level of understanding between he, his music and his audience.   The singer/songwriter is still hittin' those keys in style here, but instead he now adds extra layers of substance.   A new artist is born in the making of this record and it's so refreshing to hear that Michel Ackermann has figured out the right formula.   Add in catchy rhythms and stellar instrumentation and you have yourself one finely composed piece of work.   Job well done on coming back strong with this new album and for returning as the new & improved Michel Ackermann.   For more on this artist and his new work, Cole Porter's Blues, SKOPE out www.michelackermann.de.  
By Jimmy Rae (jrae@skopemag.com)
[Rating: 4/5]