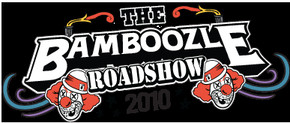 The Bamboozle Roadshow is making its way across the country. One lucky Skope Magazine reader will be given two tickets to the June 26th concert at the Nassau Coliseum. The   Lineup includes All Time Low, Boys Like Girls, Cartel, Forever The Sickest Kids, Good Charlotte and Hanson.
ALL concert goers have the opportunity to win meet and greet passes at the show.   Throughout the day, the DJ inside the Coca-Cola "Swelter Stopper" dome [a kind of luxury cooling station with frosty air, simulated snowfall, a Coke sampling bar, interactive games, a DJ and a photo station] will randomly ask questions based on Coke trivia.
www.flickr.com/photos/coca-cola/
What's a   "Swelter Stopper" – it's one of Coke's secret ingredients that, when combined with the others, make Coke the uplifting refreshment that it is. It's all part of Coke's Secret Formula that has been slowly removing the mystery around the Coke formula that has been fiercely guarded for many years. Maybe another ingredient will be revealed next year? Anyways, to help concert goers make it from the opening to closing acts, Coke will have the "Swelter Stopper" dome stocked with ice-cold Coca-Cola. They can get some shade and refresh. Once their "Swelter Stopper" experience ends, they'll be ready for crowd surfing at the main stage. Check out the a photo of the "Swelter Stopper" below.
**TO ENTER THIS GIVEAWAY CLICK HERE & SUBMIT INFO AS REQUESTED**
For more details about Coca-Cola's Secret Ingredient Formula, please go here: www.mycoke.com
The prize was provided by The Coca-Cola Company. The Coca-Cola Company is not a sponsor, administrator or connected in any other way with this giveaway.