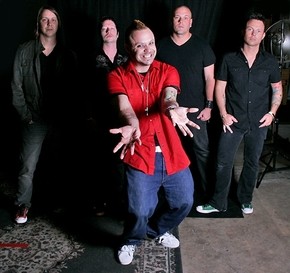 Unless you've been living in an Amish commune for the last few years, there is no way that you haven't heard Blue October's infectiously catchy brand of mood rock. The massive radio singles "Hate Me", and "Into The Ocean", (off of their multi-platinum breakthrough album Foiled) have cemented their place in today's modern rock landscape, and amassed them a rabid and loyal, "sing every word aloud" fan base as well. (Thanks largely in part to singer Jeremy Furstenfeld's cathartic and emotionally heavy lyrics, striking a resonate chord in his listening audience.)
Formed in Houston Texas in 1995, Blue October immediately began drawing comparisons to Peter Gabriel, Pink Floyd, and U2. Quickly, the band began to sell out shows with no help from radio or press. In just a short time, Blue October caught the attention of major label Universal Music Group, in 1998. Current members of Blue October include Justin Furstenfeld (lead vocals, rhythm guitar), older brother Jeremy Furstenfeld (drums, percussion), Ryan Delahoussaye (violin/viola, mandolin, piano, backing vocals), C.B. Hudson (lead guitar, backing vocals), and Matt Noveskey (bass guitar, and backing vocals). We caught up with Matt in Rochester New York, touring in support of Blue October's latest album, Approaching Normal.
Skope: I know your singer Justin is hugely influenced by Peter Gabriel, and you can hear everything from Genesis, to Joy Division in your music. What are some of your different musical influences as a band?
Matt: All five of us have pretty different musical backgrounds, and I think a lot of that has to do with why we sound the way that we do. We are sort of a genre bending band. Go to any town in America right now; and pick up the help wanted ads for local musicians. You'll see bands looking for other musicians that have the exact same influences as they do. To me, this is incredibly narrow minded. Why would four or five guys that listen to the exact same bands, form a band themselves? So they can sound just like another band? Bring in some different influences, be open and listen to something that you normally wouldn't. As a band, we all try and challenge each other that way. Every time I talk to a young band, and I ask them what they want, They all say the same thing. "We want to have our own sound, we don't want it to sound like someone else, we want it to sound completely original, etc etc etc." That's not easy to do, its so easy to be influenced by your heroes and your idols. You'll tend to take on a lot of their mannerisms, their musical personalities so to speak, without even realizing it. As far as music I listened to growing up, I was all about the Motown stuff. Otis Redding, Al Green, etc. I also listened to Dead Kennedys, Joy Division, Bauhaus, Fishbone, and Jane's Addiction. On the other end of the spectrum I was really into A Tribe Called Quest's Low End Theory, and Pharcyde's Labcabincalifornia records.
Skope: What age did you start getting into music?
Matt:     I'm 33, and everyone in my family growing up, except for my parents, played music. For some reason my mom and dad both lack the music gene. When I was a little kid, my grandfather would play guitar, and my grandmother would play piano and organ. I would sit and listen to them play for hours. My brother plays the drums. My uncle plays bass and sings, and he's one of the best bass players I've ever heard in my life. Also there was always music blasting from every room in the house. Out of my sisters room would be Prince or Rick James all day, and my brother would be blasting Metallica and Slayer.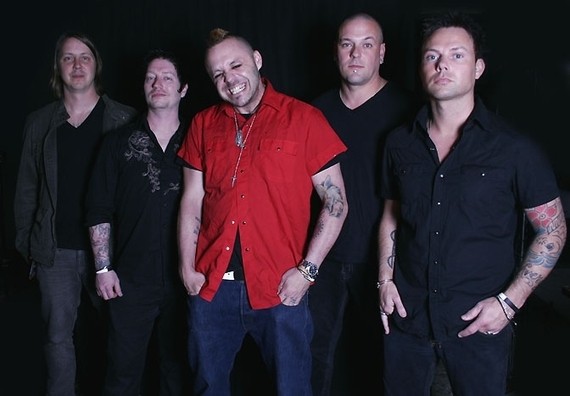 Skope:   How does this big mixed bag of musical ideas come to fruition, and form what we know as Blue October? I know Justin (Furstenfeld) is the chief lyricist, does he write most of the music as well?
Matt: Justin is the main lyricist, but when it comes to the music, we all have a hand in that. Some bands have a formula, but with this band we all take turns with the song crafting. Whether we are writing on our own, writing as band, or writing at sound checks, there is no doubt that Ryan (Delahoussaye) is our secret weapon. With Ryan playing the specific instruments the way he does, and with the hooks that he writes, he helps add a distinct flavor to the music that makes it immediately identifiable. Ryan is a huge part of the Blue October sound, something you recognize not just with Justin's voice, but with Ryan's many instruments as well. A lot of our sound I attribute to him.
View Blue October / Scott Stewart Official Photo Shoot:
Skope: Yes, it really does give you your own sound. One really cool thing about Blue October, is that your records are such great headphone music, and produced so well. It reminds me of a lot of the records that the prog rock bands of the seventies did.
Matt: Having a hand in the production is very important to us. A lot of bands just take their record, and sort of trust their team with it. Not that we don't trust our team, but we are not going to just hand over something that is as important to us, as an album. To me it's not "just an album." It's a statement of creativity. It's a timepiece, it's a work of art. You don't want to trust everyone else with that vision. Justin has a coveting approach to the whole recording process. On the latest record Approaching Normal, we worked with producer Steve Lillywhite (U2, Peter Gabriel, Dave Matthews Band). Even Steve wasn't used to a band being so involved in the process. Steve was like, "These guys are up in my grill all day."(laughs)   I think it's awesome that it does mean that much to us, and it's so important that everything we record has our own signature sound.
Skope: Now that the big budget music video has gone away, but the concept of videos are still relevant, how do you approach the video making process? Your videos are so well done. They are like little mini movies in themselves.
Matt: Thank you! I love the fact that bands like OK Go, still give it their all. They go and do things that are inspiring, and make some great videos that make people want to go and check them out. I'm sure a lot of bands get pressured into doing things, videos they might not like or want to do.   They get five treatments for a music video, and on the first or second one, just say "Yeah ok that sounds good." They just roll with it. With us, we are really picky. I can remember getting like 40-50 treatments from video directors, and saying, "Can you send another batch, we're not quite there yet.". Were pretty meticulous about things like that.
Skope: Do you guys write on the road?
Matt: Yeah we do a lot actually, whether it be on the bus or in the dressing room, and that will translate into what we are doing at sound check. Ryan (Delahoussaye) has been writing a ton of stuff lately. The other day, we played some of his ideas for a good hour and a half before we even started sound checking on stage before the show. That's how older songs like "Razorblade" were written. They just started off as a jam, and blossomed into an actual song.
Skope: What does the future hold for you guys?
Matt: We are going to head home, and lay down some new songs and see what happens. So maybe some new stuff from us very soon. I'm not putting a time frame on it, but definitely sooner than later.
www.blueoctober.com
www.myspace.com/blueoctober
By: Matt Dalberth