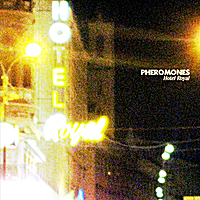 Hot on the heels of last years impressive debut EP, (You And The Digital Age), the Pheromones have returned- inviting you in for a stay at their lush, dark, and atmospheric Hotel Royal. The ghosts of former guests like Bowie, Morrissey, and Radiohead still roam the halls of Hotel, and can be heard creeping about- lurking and injecting inspiration into every well thought out chord and chorus. The Pheromones Hotel is so rich in musical history, with every room giving a nod to great music of yesteryear, while still retaining its own identity and character. This new four song outing not only builds upon the sonic foundation laid by Digital Age, but razor sharpens the focus of the song craft and lyrics, and takes it to bold and dizzying new heights. To over simply it, the Pheromones have completely outdone themselves here.
Kicking things off with the explosive, "They Cant All Be California Girls", the Pheromones lock into position immediately, cranking the amps up to 11 and setting their sights on stadium rock. The guitars gnash their teeth and snarl with a ferocious Queens Of The Age drone, before opening up with an enormous hook that would make Cheap Trick at their prime, jealous as hell. The almost punk rock urgency of the music is topped off with fitting lyrical bite, sarcastically denouncing typical Hollywood superficiality, all anchored down by a cacophony of rolling tom toms and throbbing bass.
Here is where the album takes the start of a brilliant left turn from its aggressive opening track- into "Lemon Yellow", a Siamese Dream like slice of Brit pop, (If it were served up by Sonic Youth's Thurston Moore.) Easily the Pheromones best song to date. You can almost feel every nuance of the smoke filled room, avoiding thieves and liars at the bizarre 1953 party that   the songs wary narrator speaks of. Meeting eyes and trying to catch the attention of the beautiful blonde floating across the room- whispering in your ear as the story unfolds. This kind of powerful imagery and intimate connection between song writer and listener, is what makes this such a stand out track. Orchestrated by sparse and jangly guitar leads and haunting falsetto harmonies, "Lemon Yellow" is a dynamic gem where all the stars have aligned to make a damn near perfect song.
             
Three tracks in, and the band pause to catch their breath on the 1970's classic rock ballad influenced, Pescara. (Think Bowie meets Tom Petty in a bizarre-o world songwriters meeting, but somehow ends up sounding perfectly natural, and real.) Its risks like these that really pay off ,and make Hotel Royal such a pleasant departure from the norm.
Gears abruptly shift once again to close out the album with the epic (No Vacancy) We Were Only Kids. (If you don't get goose bumps from the spacey slide guitar build up right before the last chorus, check your pulse.) This song is every bit as good as anything off of The Bends, and far better then anything Radiohead has done in the last ten years. Suddenly the simple, honest topic of fondly reminiscing on childhoods innocence, take on an almost heartbreaking tone, where it feels like the music actually becomes a cinematic score for the line, "Tripping on this pavement, cause it used to be a field."   You can almost hear the weight of melancholy in each weeping guitar note, a perfect marriage of lyrical content and musical ambiance. Its in these times that Hotel Royal positively shines.
In just eight short months between the release of You And The Digital Age, and Hotel Royal, the Pheromones have grown as a band, by the kind of leaps and bounds that most bands don't achieve after five years, albeit their whole careers. More impressive then that, is how they have managed to do what so many shoe gazing indie bands have tried and failed at accomplishing over the years: To make artistically viable music, free of pretentious overindulgence, and still have commercial appeal- without trading any sense of itself or watering down its soul for the masses. (PAY ATTENTION COLDPLAY: This is how its done, with integrity!) The songs on Hotel Royal could easily be played in a small dark club or a packed arena, without losing any of the feeling or sacrificing an ounce of the emotion, that make this such a great record. The songs stick with you almost instantaneously. You can check into the Pheromones Hotel Royal anytime you like, but you can never really leave…….and why would you want to?
By: Matt Dalberth
[Rating: 4.5/5]