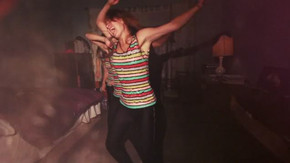 "Underwear" is off the band's US debut How to make friends, out now on Kimi Records. Directed by DANIELS (production duo Daniel Scheinert and Dan Kwan), the video features heavily-manipulated footage of interchangeably manic, bumbling and joyous solo dancers (Ani Raya-Flores, James Mackey and Marilyn Heidecker), inevitably culminating with them in their underwear.
FM Belfast is currently in the midst of a European tour, hitting up festivals across the continent, and will return to the US later this year.
Underwear by FM Belfast (Music Video) from Daniel Scheinert on Vimeo.