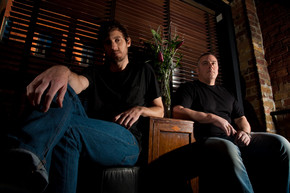 After a hot start in the underground disco edit scene, UK producers and remix sensations Mock & Toof are rolling through with their debut full-length Tuning Echoes set for release May 24th. Riding a reputation as one of the most sought after acts on the DJ circuit, Mock & Toof demonstrate what happens when one combines an education in house music with a love of experimental pop and psychedelic rock.
Farewell To Wendo" MP3:
Duncan Stump (Mock) & Nick Woolfson (Toof) are two of the UK's most creative music producers. Having made a name for themselves via 12" releases on James Murphy's DFA Recordings and their own Tiny Sticks imprint; the pair have forged a reputation for brilliantly off-kilter, disco-fuelled house grooves that are laced with originality. Enough originality in fact to have caught the attention of Hot Chip, Zero 7, Holy Ghost! and Groove Armada who've all come calling for their remix services.