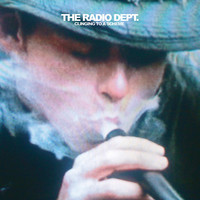 In today's musical landscape, four years is basically an eternity for a band to follow up an album with another. This obviously doesn't matter to the Swedish electronic pop band The Radio Dept. as their newly released album Clinging To A Scheme comes on the heels of the well-regarded Pet Grief record which dropped way back in 2006.
Still, prolificacy is not something The Radio Dept. are known for. The band, which was formed in the late 90s, only recorded one other full-length album and that was another much loved recording called Lesser Matters.
Nevertheless, despite The Radio Dept.'s scarcity on the album front, the band definitely has its sound down pat as evidenced on the intriguing Clinging To A Scheme. Much like the previous two recordings, the new album is full of dreamy, electronic sound collages that remind one of new wave artists like the Jesus and Mary Chain and a quieter My Bloody Valentine.
A fine example of this is the opening track "Domestic Scene" which is very cinematic in sound with its understated guitars and low vocals by lead singer Johan Duncanson. Later on, driving drums propel the fine "This Time Around" while a shimmering guitar and a ping pong like beat anchor "A Token Of Gratitude."
However, the songs that grab the most immediate attention are "Heaven's On Fire" and "Never Follow Suit." Both tracks have a lot of musical ideas and instruments going around on them and they seem, for the most part, the better for it. "Heaven's On Fire" is the most accessible track on Clinging To A Scheme because of its bouncy beats and horn-driven finish while "Never Follow Suit" finds a piano mixed in cleverly with an almost reggae-like electronic beat.
The main criticism of the two tracks, however, are the spoken samples introduced in the songs. "Heaven's On Fire" uses a Thurston Moore sample about youth culture at its beginning and "Never Follow Suit" employs an unidentified graffiti artist in its middle. The samples don't work so well because they distract from the rest of the songs' vocals which are so distant and low in the mix.
In fact, Duncanson's hushed vocals might be Clinging To A Scheme's biggest drawback. That doesn't mean he is a bad singer. He is actually fine for this genre of music. It's just the way the vocals are mixed in with the music makes it very hard to discern what the lyrics are about.
And yet, the sonics behind the album are so interesting, it sometimes doesn't matter what is being sung. Instead, what matters is that The Radio Dept. finally released an album after four long years.
Author – Todd Sikorski
Artist Website – http://theradiodept.com
[Rating: 3.5/5]