For many musicians based out of New York City, it is easy to write about life in the Big Apple but it is much harder to make it sound fresh and compelling.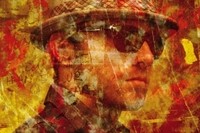 Ayler Young, a 30-year-old songwriter influenced by both classical and rock music, doesn't seem to have that problem though as his just released debut album Back In The City is a fine collection of modern, soulful rock songs that invokes the spirit of New York City without being too direct or oblique.
One of the best examples of this is the title track which finds Young singing about his fondness for his hometown while away in a foreign land. The song is even more effective because of the singer's pleasant John Mayer-like voice and the solid playing from his band of successful sidemen.
Another highlight from the album is the semi-funky "One Man Show" which features a striking chorus and witty lyrics that detail the ups and downs of an artist trying to find success. Later on, Young also shows off he is adept at writing straight forward romantic songs successfully. The songs "Sweet One" and "Dream Girl" are radio ready with the latter being more interesting with its impressive percussion solo near its end.
Back In The City isn't perfect though. The first half of the album is much stronger than the second where a few tunes feature some background vocals that are too distracting.
For instance, "Tripping Out" starts off intriguing with splashes of guest DJ Logic's turntable skills but once the female background vocals fade in, the track becomes too staid to be memorable. Also, "Second Best" finds Young's most soulful singing but that is overshadowed by a   female's wails in the middle of the track. Thankfully, there is a fine guitar solo near the end that saves the song.
What makes Back In The City a good debut, however, is that it showcases Young's gift for writing catchy melodies and his ability to assemble a great backing band. Even on the album's lesser moments, you can hear the fine work of musicians like Darryl Jones (bassist with The Rolling Stones), Charley Drayton (drummer for Johnny Cash and Neil Young,) and George Laks (keyboardist with Lenny Kravitz's band.)
Their collective performance is yet another reason why Young's album resonates more than your average New York City songwriter.
Author – Todd Sikorski
Artist website – http://www.ayleryoung.com
[Rating: 3.5/5]